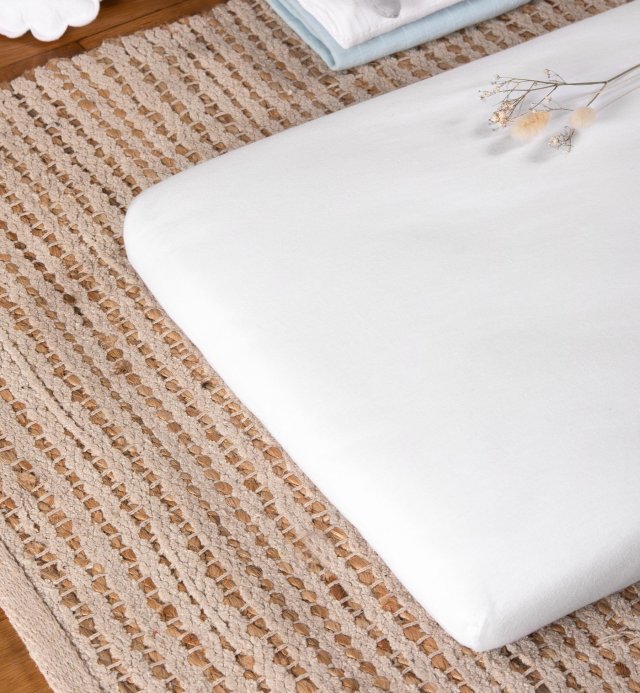 favorite




ORGANIC COTTON fitted sheet - Cot/pram
star
star
star
star
star_half
(425&nbspReviews)
Organic cotton - Stretch - Elasticated cups
Offer your child the softness of organic cotton during all his sleep moments with this special fitted sheet for cribs and prams, which respects fragile skin.
Free delivery and return from 39€
Description
The fitted sheet is a very important part of a baby's bedding, as they spend many hours in direct contact with it. It is therefore very important to choose a soft and healthy fitted sheet without any added chemical treatment.
The Kadolis organic cotton fitted sheet has been designed to fit crib and pram mattresses. It has no preformed corners to fit all mattresses, whether they are rectangular or oval.
Its 100% organic cotton composition and its OEKO-TEX® certification make it a fitted sheet free of any chemical product and perfectly healthy for babies. Moreover, the organic cotton offers an ultra soft contact which is suitable for all skins, even the most fragile. The organic cotton ensures a perfect circulation of air between the fibres and thus offers to the babies a good regulation of the temperature by limiting the excessive perspiration responsible for many night wakings. The organic cotton fitted sheet will therefore be perfect to take care of baby's fragile skin and ensure a more natural sleep.
The following sizes of the sheets are already preformed and have angles for the installation of the rectangular crib mattress (40x80cm/40x90cm/50x83cm/50x100cm).
For the sizes 72x33cm and 76x30cm (pram mattress), no corners are preformed.
Fitted sheet machine washable at 60° to guarantee perfect hygiene for your child and an ultra healthy bedding.
The little extras :
- Stretch - Choice of sizes
- Elasticated shape for easy installation on the mattress
- Fitted sheet guaranteed without chemical treatment and OEKO-TEX® certified
- Delivered in a recycled and recyclable cardboard box to limit the impact of plastic on the environment
To offer a secure bedding to your baby, discover our organic cotton sleeping bags.
For the daily washing of baby bed linen, we recommend a maximum temperature of 40°C to protect the planet and preserve the fabric and the brightness of the colours.
A wash at 60°C can be considered occasionally.
recyclable and recycled box
Made in Europe
Organic cotton
OEKO-TEX® 5452CIT
Product Details

Thickness

5 cm

Place of manufacture

Portugal

Guarantee

2 years

Certification

OekoTex ® N°5452CIT

Treatment

No chemical treatment.

Care instructions

Machine-washable at 40°C / Authorised tumble-dryer

Weight:

100 g

Reference

DHB09B
Composition
- 100% Cotton from organic farming
Grammage: 130 gr/m2
ORGANIC COTTON fitted sheet - Cot/pram
star
star
star
star
star_half
425

Reviews
More recent
More recent
1 star
2 stars
3 stars
4 stars
5 stars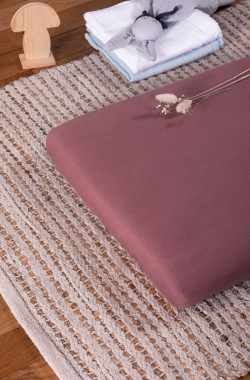 ORGANIC COTTON fitted sheet - Cot/pram
star
star
star
star
star_border
ORGANIC COTTON fitted sheet - Cot/pram
Catherine
Catherine E

(Switzerland), the 08/04/2022
(translated from french)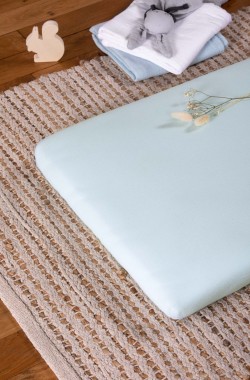 ORGANIC COTTON fitted sheet - Cot/pram
star
star
star
star
star
ORGANIC COTTON fitted sheet - Cot/pram
Catherine
Catherine E

(Switzerland), the 08/04/2022
Good quality but the color is a bit dull
(translated from french)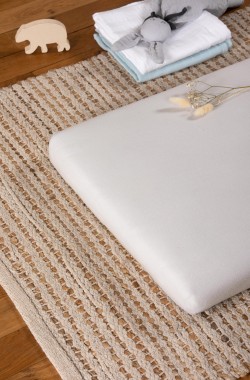 ORGANIC COTTON fitted sheet - Cot/pram
star
star
star
star
star
ORGANIC COTTON fitted sheet - Cot/pram
Top
lalla R

(France), the 07/21/2022
(translated from french)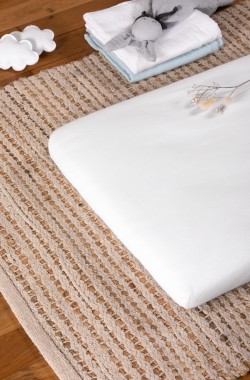 ORGANIC COTTON fitted sheet - Cot/pram
star
star
star
star
star
ORGANIC COTTON fitted sheet - Cot/pram
Effective
johanna A

(France), the 07/10/2022
(translated from french)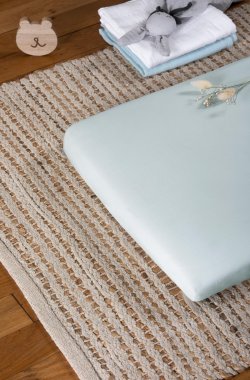 ORGANIC COTTON fitted sheet - Cot/pram
star
star
star
star
star
ORGANIC COTTON fitted sheet - Cot/pram
Perfect
Marion M

(France), the 07/09/2022
(translated from french)