Diffuser reffils (x5)
star
star
star
star
star
(1&nbspReview)
Set of 5 paper parasol filters.

Designed exclusively for the Essential Oil Diffuser (sold separately), these blotting paper filters absorb easily the essential oils to restore all the aroma in your living rooms, by simple evaporation.
Free delivery and return from 39€
Description
Pour the essential oil of your choice up to the filling level of the support that supports the parasol filter. Introduce the bundled umbrella filter folded in the holder and allow to absorb the essential oil. Then replace the support in its wooden base, unfold the parasol filter and arrange it at the top of the support.

Under normal temperature conditions (20 ° C), a piece of current size (about 20 m²) will be sanitized by evaporation of essential oils between 15 and 20 minutes. The operation can be repeated 2 or 3 times a day for optimal efficiency. Under these conditions of use, it is necessary to recharge the diffuser every 5 to 6 days.

If the ambient temperature is below 18 ° C, in this case only, it is advisable to place the diffuser near a lit lamp or shade, without being in contact.
Made in France
recyclable and recycled box
Product Details

Place of manufacture

France

Weight:

60 g

Reference

LA398005
Composition
Lot of 5 filters delivered folded.
star
star
star
star
star
1

Review
More recent
More recent
1 star
2 stars
3 stars
4 stars
5 stars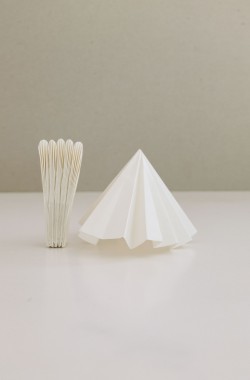 Diffuser reffils (x5)
star
star
star
star
star
Diffuser reffils (x5)
Perfect
FEfzf Z

(France), the 01/06/2022
(translated from french)