4,6/5 out of
16476 reviews
star star star star star_half
Free delivery from 49€ * - 30 nights to change your mind - Free returns
Free Shipping* and Returns
close
Free delivery on orders over €49.
For orders below this amount, standard home delivery costs €6.90 and parcel delivery €4.90.
All returns are free within 30 days.
Natural sleep
star
star
star
star
star
(2 Reviews)
Turia baby bed
Solid beech
Natural wax finish
PEFC certified
Made in Spain
Estimated delivery between 7 and 11 December
The delivery time and the price may vary due to the country of destination.
Free delivery from 49€.
Free return within 60 days
5 years warranty
Scandinavian-style Turia 60x120cm crib bed in genuine PEFC-certified solid wood with natural wax finish.
Composition & Product Details
Detailed description
Shipping & Returns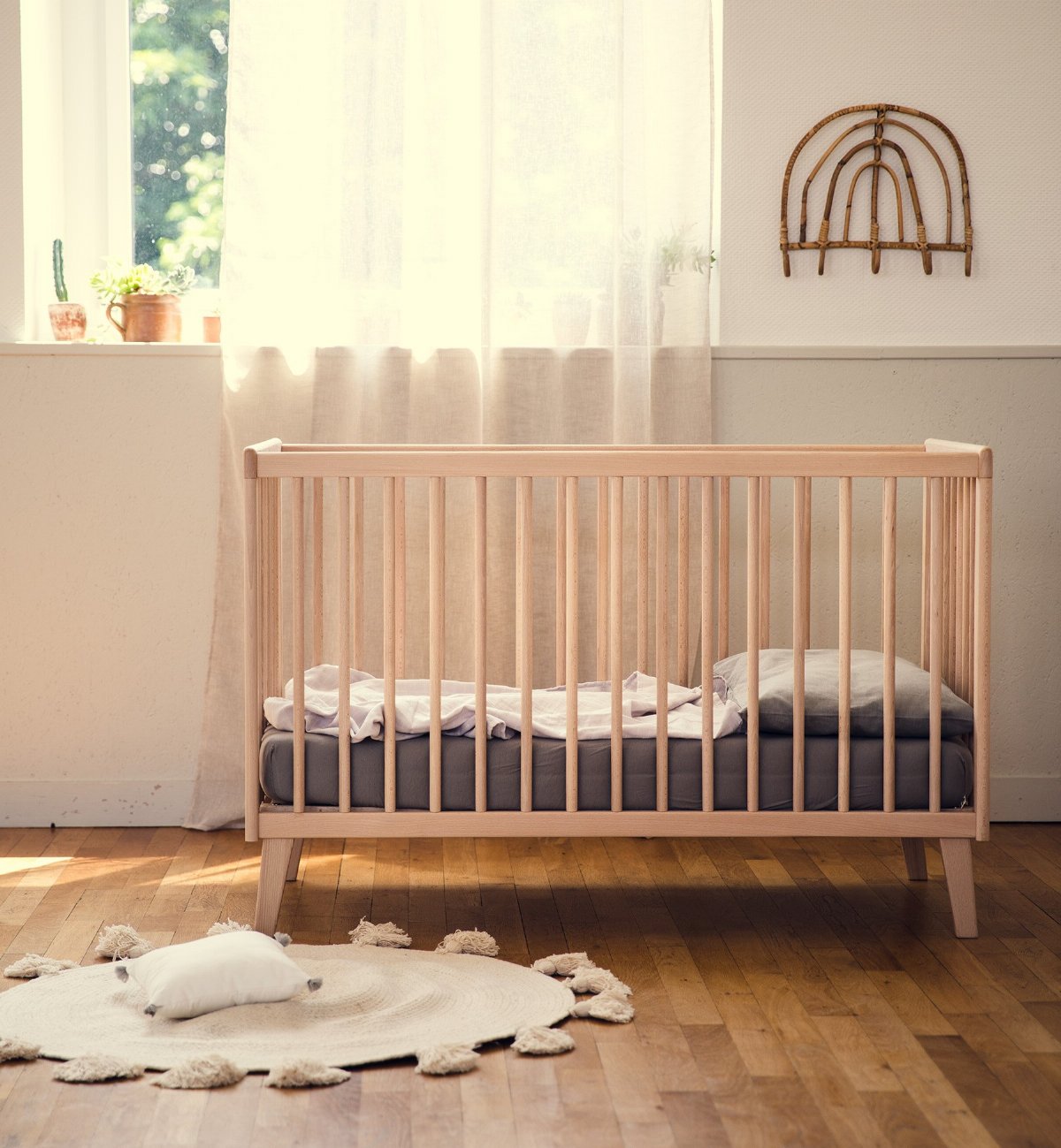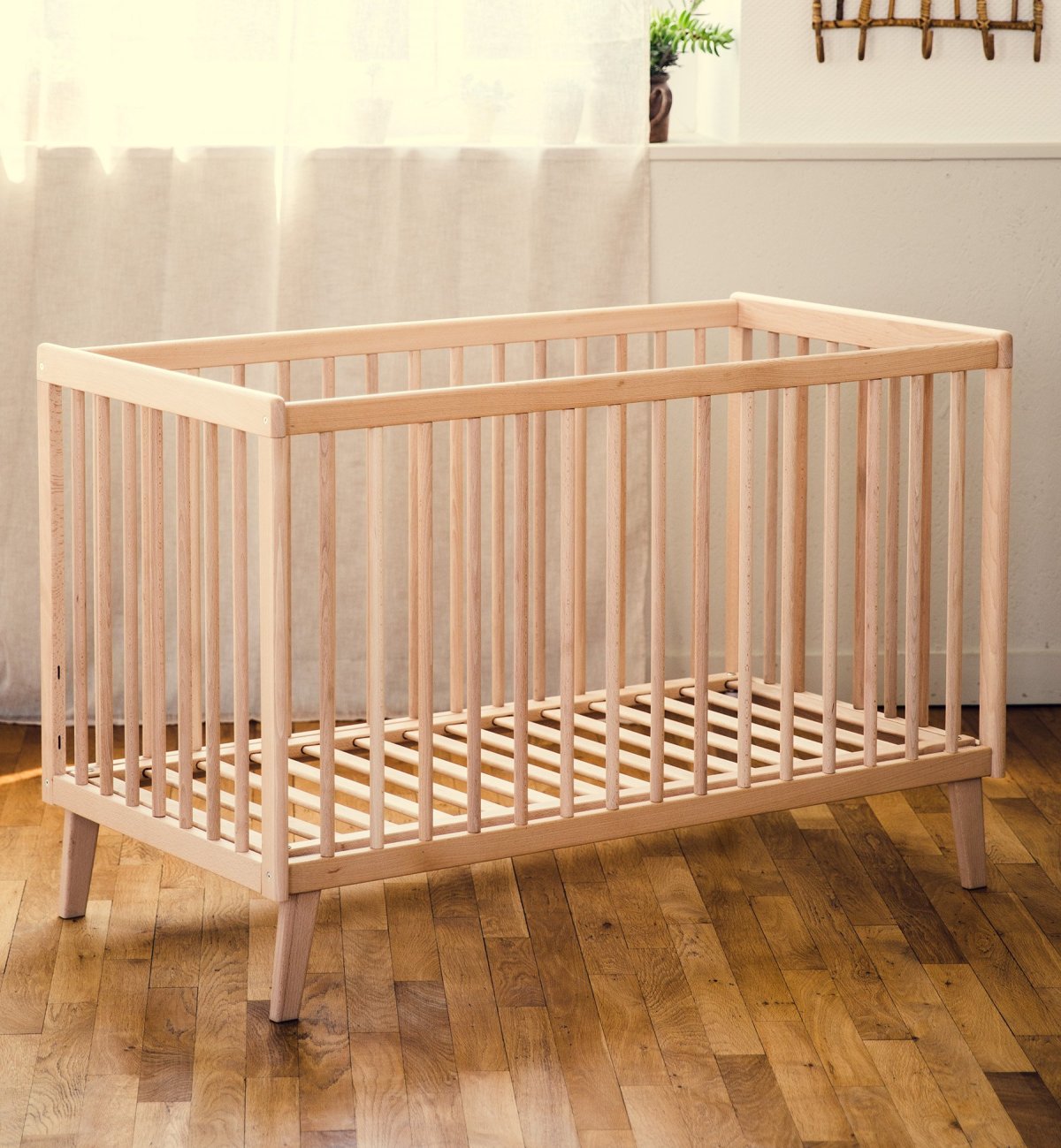 Scandinavian-style Turia 60x120cm crib bed in genuine PEFC-certified solid wood with natural wax finish.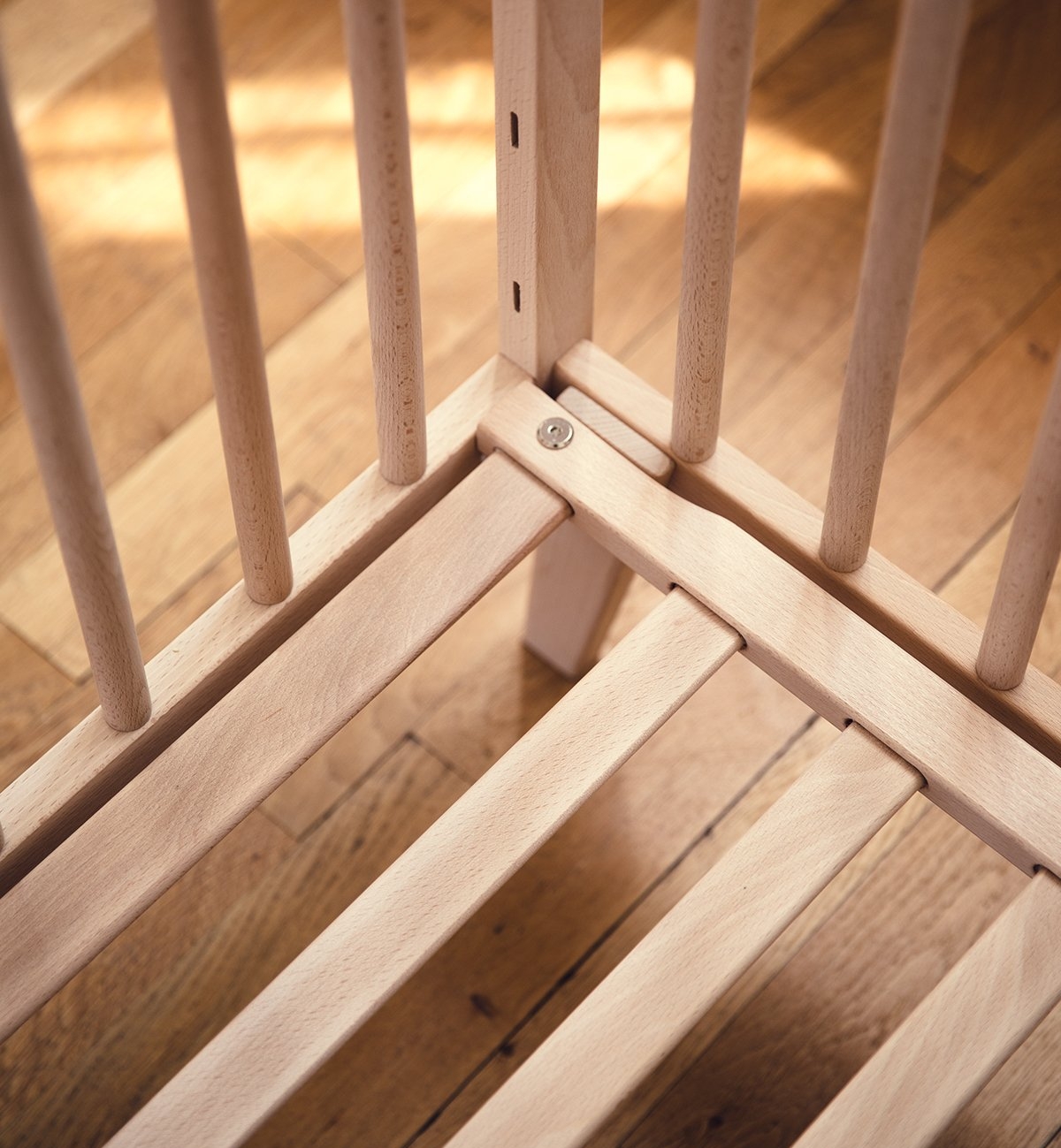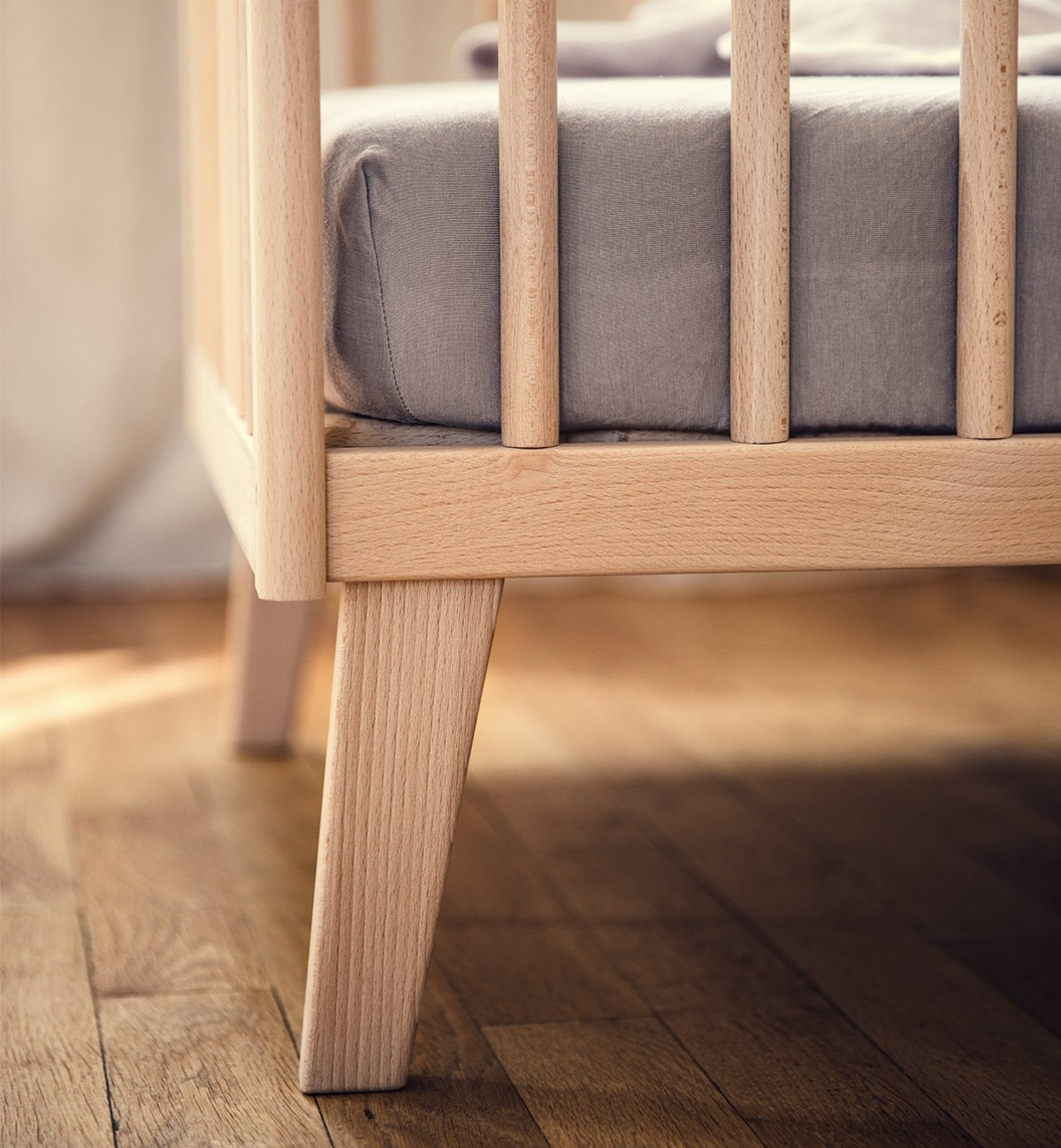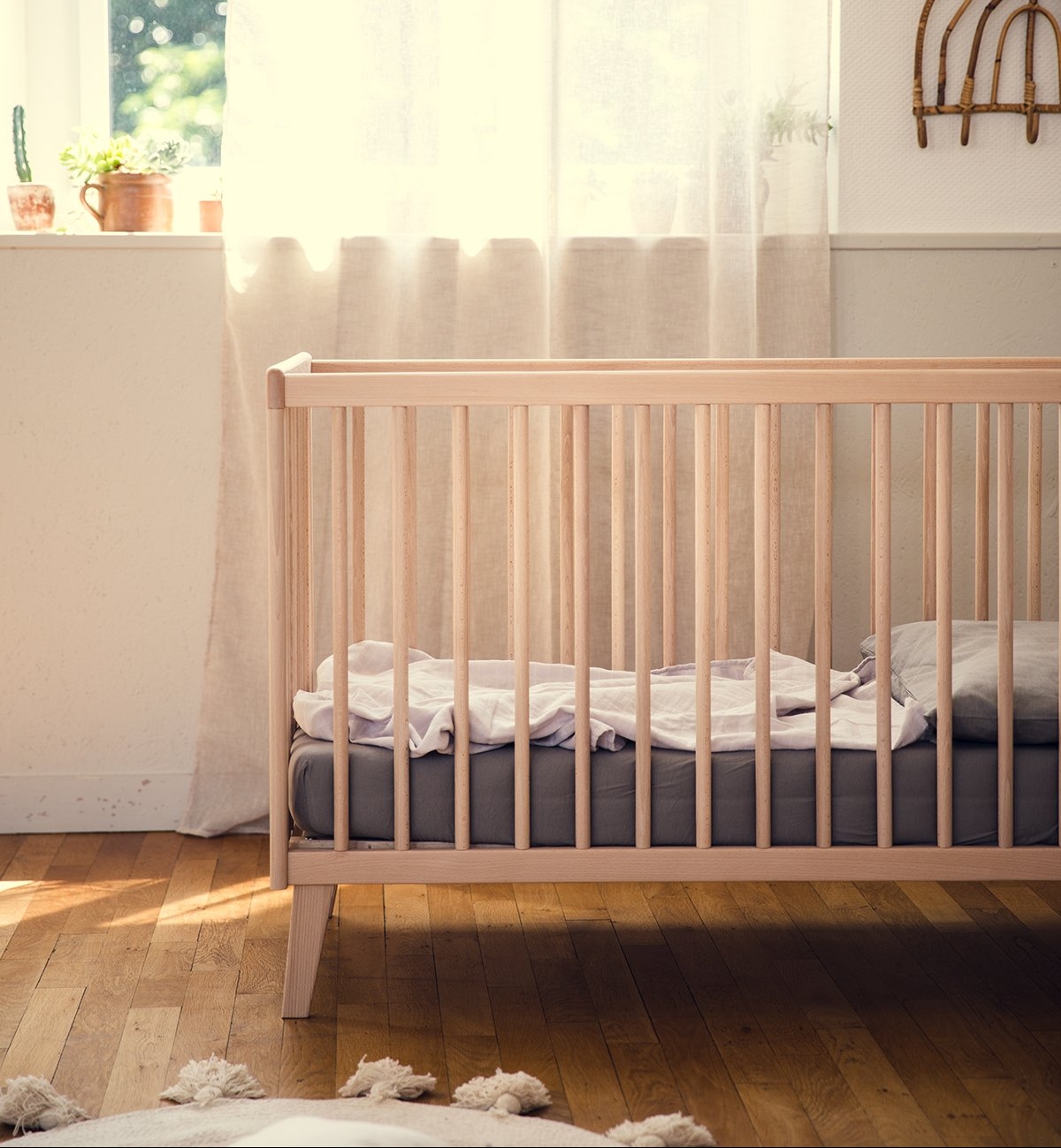 Composition
100% solid beech wood
Beeswax in compliance with EN 71-3:2013 + A3:2018
Product Details
Place of manufacture :
Spain
Certification :
PEFC 14-32-00091-BVC
Norms & standards :
NF EN716-1 and 2 of A1 2013
close
The Turia solid wood crib made in Spain is an ideal choice for creating a safe and comfortable sleeping space for your precious baby. Carefully crafted in Spain, this bed combines traditional craftsmanship with superior quality.
A cot suitable from newborn to around 3 years of age
A crib with bars is generally suitable for infants and toddlers up to around 2-3 years, depending on the child's growth and sleeping needs.
as the child grows, he or she may become too big or active for the crib, and it may be time to move on to a toddler bed or a standard-sized bed. Some children may be ready to move on to a larger bed before the age of 2 or 3, while others may need to stay in a crib a little longer.
It's essential to monitor the child's signs of development and maturity to determine if it's time to move on to a bigger bed.
Cribs must meet certain safety standards to ensure the protection and well-being of babies and toddlers. These standards vary from country to country, but here are the criteria for which our Turia 60x120cm crib has been tested:
- Bar spacing:The spacing between the bed's bars must comply with safety standards (6.2cm). In general, the spacing should be small enough to prevent a baby's head from passing through obviously, and wide enough to allow good air circulation.
- Non-toxic materials: the materials used to make the crib must be safe for babies. They must be free from toxic substances, lead, phthalates or other harmful chemicals.
- Stability and solidity: The crib must be stable and solid to avoid any risk of tipping or toppling over when a child moves or stands inside.
-No protruding parts or sharp edges : The edges and parts of the bed must be free of sharp edges or protruding parts that could injure the child.
- Clear assembly instructions: The bed must be accompanied by clear, detailed instructions for correct assembly (included in the box on delivery)
Easy 3-position base adjustment
Our Turia 60x120cm baby bed is designed to adapt to your child's growth and changing needs during the first few months of life. Here's a general guide to when you might want to consider changing the height position of the base of the Turia crib:
- High position: The highest mattress position is used from birth and during the first few months, when baby is very small. Usually, this position is used until the baby begins to roll over on his own or lift himself up on his arms, signs that it might be time to lower the mattress. This height is convenient for parents, as it makes it easy to drop off and pick up the baby without having to bend over too far.
- Medium position: Once the baby starts to become more active and dynamic, rolling over or trying to stand up, it's advisable to lower the mattress to this medium position to avoid any risk of falling when the baby is able to sit up or stand up by holding on to the bed's bars.
- Low position: When baby becomes more mobile, starts to stand up on his own, or reaches a size where he might try to climb out of the crib, it's time to place the mattress in the lowest position to ensure his safety. This will prevent the baby from climbing over the bed.
These indications are general and may vary according to the specific development of each child. It's essential to keep a close eye on your baby's development to know when to adjust the mattress height. Make sure that the crib is always secure and that the baby cannot fall out or hurt himself by adjusting the mattress height accordingly.
A strong, durable bed
Constructed from solid wood, this crib offers exceptional durability, guaranteeing long-term use for many children. Solid wood is not only strong, but also adds a touch of natural warmth to your child's room. Solid wood, as the name suggests, is made from whole pieces of wood, giving it greater strength and durability than composite wood, chipboard or plywood.
Woods such as oak, beech, ash and walnut are often considered particularly durable, while less dense or softer woods can be more prone to damage.Your baby's safety is a top priority, which is why this bed is equipped with sturdy guardrails.The 3 positions of the slatted base provide security throughout your child's development, making sleeping easier and more ergonomic.
Although solid wood beds may initially be more expensive than other types, their long-term durability can make them a wise investment. They can stand the test of time and continue to be functional and aesthetically pleasing for many years to come.
Solid wood can also be sanded, repainted or repaired to enhance its longevity.
Authentic, modern styling
This crib features a sleek, timeless design that will blend perfectly with any decor. Its Scandinavian-style lines and elegant finish make it a versatile choice for baby bedrooms, from the most traditional to the most modern.
Each piece of solid wood has its own grain, texture and nuance, giving each of our beds a unique, natural appearance. This uniqueness helps create a warm, authentic style.
What's more, this solid wood crib is easy to assemble and maintain. The high-quality materials used in its manufacture make cleaning quick and easy, which is essential for maintaining a clean and hygienic environment for your baby.
Natural wax that's not harmful to baby
Using natural beeswax to treat or protect our cribs offers several advantages:
- Safety: Beeswax is generally considered a natural, non-toxic product, making it a safe choice for a crib. Unlike some of the chemicals in other types of wood finishes or treatments, beeswax is safe for babies, as we know toddlers tend to put their mouths on the bars a lot when they're teething.
- Wood protection: Beeswax helps protect the wood of the crib by sealing its surface. It creates a protective layer that repels moisture and helps prevent stains, prolonging the bed's durability.
- Natural look: Beeswax can enhance the natural beauty of wood by giving it a soft, lustrous appearance, while preserving its natural color and texture.
- Less chemical fumes: Unlike some chemical-based varnishes or finishes, beeswax tends to emit fewer odors harmful to babies, providing a healthier sleeping environment.
Reassuring PEFC certification
PEFC certification (Programme for the Endorsement of Forest Certification) guarantees that wood products come from sustainably managed forests. PEFC-certified forests therefore guarantee that they are managed sustainably, respecting the environment and meeting high social and economic standards.
The little extras :
- Natural wax, no varnish or glue
- Modern Scandinavian style
- 3 slat base positions
- Made in Spain
Sold without mattress
Fixed slats - not removable
Internal bed dimensions: 60x120cm External bed dimensions: l 66 cm x L 124.5 cm x h 84 cm
close
Our delivery times are displayed on each product page and may vary depending on the item. We do not make partial deliveries.
Deliveries are made automatically at letterbox level (no delivery to the floor or in the lift) and by the day.

However, we do offer a chargeable option for upstairs delivery with packaging collection and a 2-hour appointment slot.
However, custom-made products cannot be returned or exchanged.


The return of products, in their original packaging and with labels, is free within 30 days.
close
Made in Europe
Our products are made in Spain, Portugal or France and our raw materials are traced from design to manufacture.
close
Turia bed advantages
Natural wax
baby-friendly and compliant with