Kadolis in the medias
Find articles and publications about Kadolis.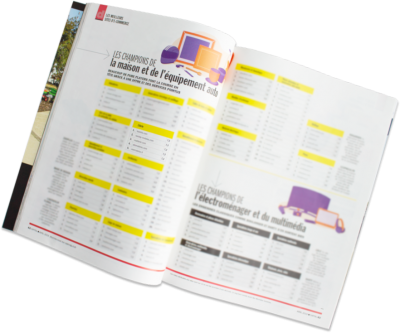 Capital magazine - January 2019
Kadolis elected best e-commerce website in France!
We are very pleased to announce our 1st prize!
Statista and Capital magazine have named us Best e-commerce website for the year 2019 in the "bedding" category.
Le journal des entreprises - February 2019
Created in 2003, the Journal des Entreprises is an economic media that enlightens executives and managers on the economy and businesses in their region. In Angers, they talk about us!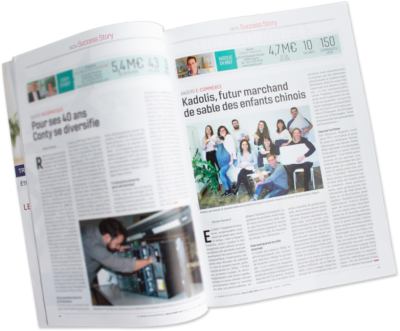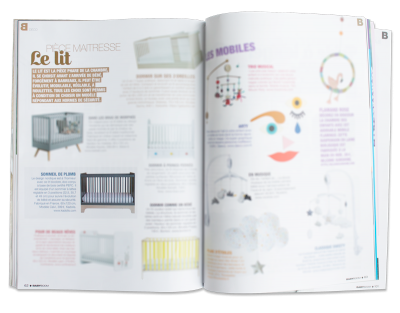 Baby boom magazine - April 2019
Inspired by the TV show on TF1, you live in the hearts of families, the big step which is to welcome baby! The magazine informs you of all the tips and tricks to learn more about the world of childcare. Our products are thus widely presented.
Que choisir - June 2019
Experts test, compare and give their opinion in complete independence on the products and services of your daily life: Car, High-tech, Appliances... Our Kadolis mattresses have been combed through with a fine-tooth comb!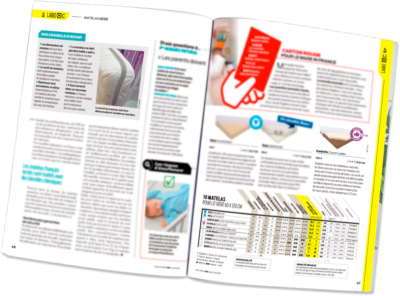 parole de mamans - the best of - August 2019
A magazine that gives parents a voice. They become testers of the various products related to the and are thus accompanied in their family life. So we talk about our products!
parole de mamans - August 2019
The theme of sleep presented with a panoply of the best products!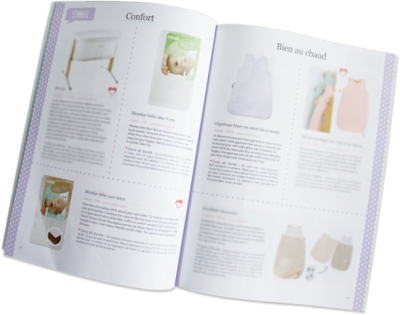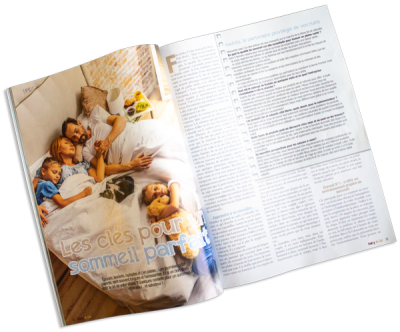 Baby & Cie - January 2020 - 1/2
Baby and Cie - January 2020 - 2/2
PARENTS - MARCH 2020
C'EST DE L'ACTU - JULY 2020
Our new organic cotton duvet in its place in this magazine!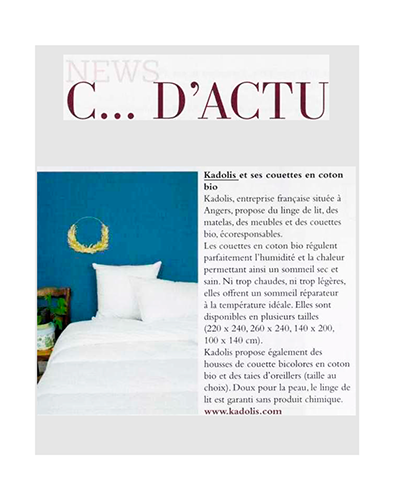 MOBILIUM - AUGUST 2020
Specialist in furniture, we also talk a little bit about ecology in bedding here and it's for us!
TV Magazine - SEPTEMBER 2020
A wide range of brands and mattresses to choose the best...kadolis!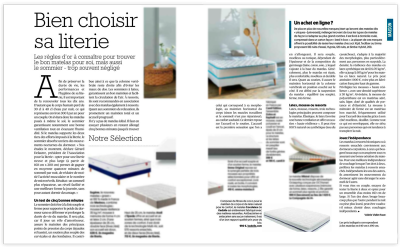 SANTE DES ILES - OCTOBER 2020
Health also means well-being with our new 100% natural candles!
MAISON & TRAVAUX - NOVEMBER DECEMBER 2020
Maison & Travaux is the leading magazine on the world of renovation and fitting out. You'll find practical advice, buying guides, accessible decorating ideas that will help you bring home improvement ideas to life. Our Calvi rooms may inspire you!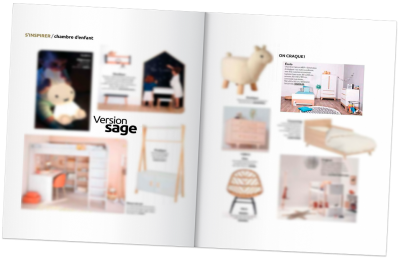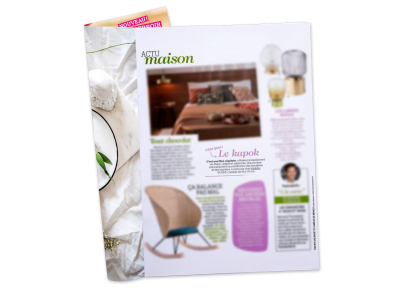 FEMME ACTUELLE -NOVEMBER 2020
Find all the latest news, practical advice, video news, games, tests, forums, blogs and more on Femme Actuelle ! A little flash on the material used in our pillows: kapok !
TOUR HEBDO - NOVEMBER 2020
Tour Hebdo, the portal for tourism professionals: tourism news, job offers, Icotour guide, all the information for tourism professionals where we talk about our global internet strategy for Kadolis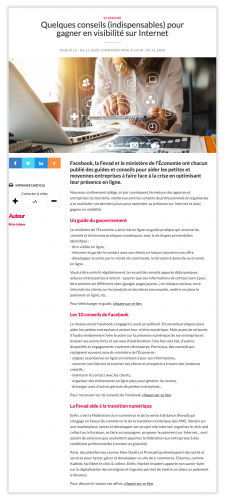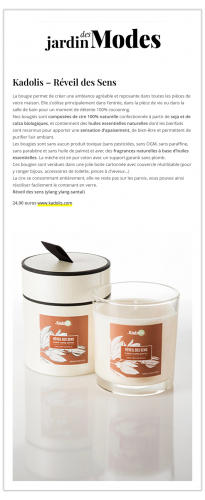 Jardin des modes - NOVEMBER 2020
Women's fashion, beauty, lifestylemagazine. Discover daily the latest trends and editorial choices with, among others, our natural candles!
TOP SANTÉ - DECEMBER 2020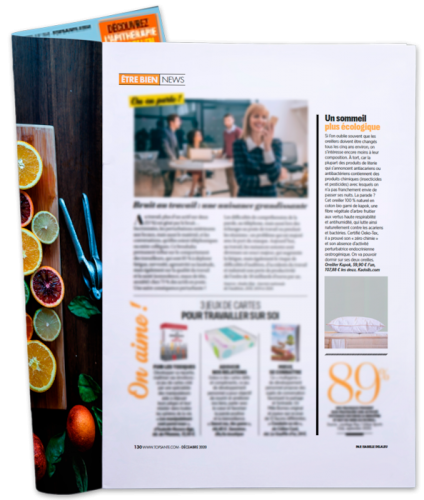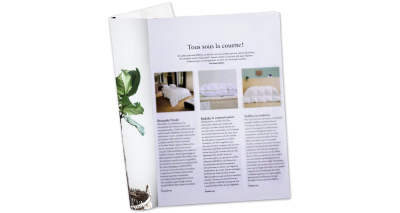 IDEAT CONTEMPORARY LIFE - DÉCEMBRE 2020
The current decoration and design magazine is talking about our Kapok pillow
VOICI - DÉCEMBRE 2020
With news of people and celebrities from all over the world. Discover also our products in the fashion and beauty area!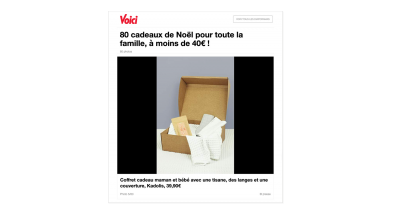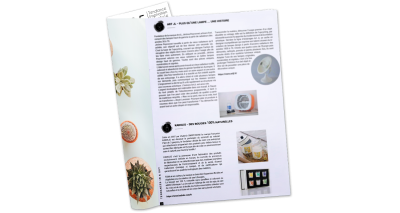 MY CHIC RÉSIDENCE - DÉCEMBRE 2020
The magazine My Chic Résidence highlights the interior decorator réHome and some of his work sites for professionals and individuals. So our candles are also inspiring for a natural touch in your home!
RUSTICA - JANVIER 2021
Rustica magazine is perfect for gardening and nature lovers with the presentation of our natural candles.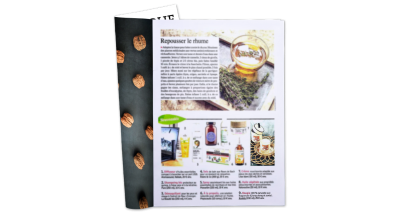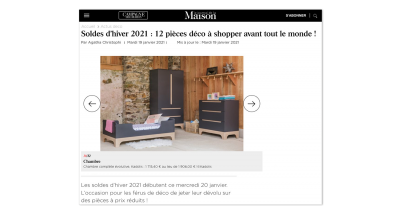 LE JOURNAL DE LA MAISON - JANVIER 2021
Le Journal de la Maison invites you to visit interiors with a strong personality arranged and decorated by enthusiasts. Whether you prefer a combination of styles, natural tones or bright, contrasting colours, muffled, baroque or high-tech atmospheres, let yourself be tempted... and take advantage of our practical files to succeed in all your furnishing and equipment projects with our Calvi rooms, with their atypical and modern style!
MAISON CRÉATIVE - JANVIER FÉVRIER 2021
Home decoration, new trends. Don't be afraid to be creative with the magazine of your projects where we find our bed linen collections!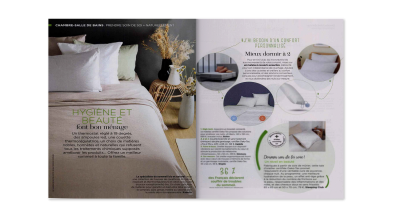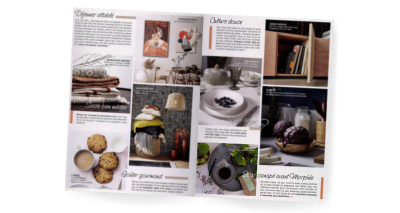 MAISON ET JARDIN - JANVIER FÉVRIER 2021
MAISON et JARDIN Magazine, the reference in decoration and landscaping! Find trends, decorating tips, talents to follow and more. Our herbal teas are highlighted here!
VERSION FEMINA - FÉVRIER 2021
Hairdressing, wellness tips, psychology and sexuality, gourmet recipes to try, culture and daily life and sleep with Kadolis!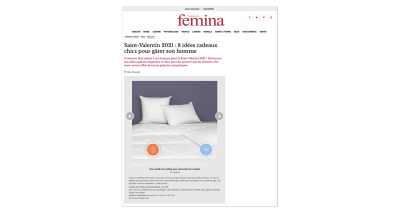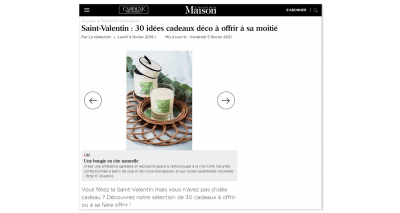 LE JOURNAL DE LA MAISON - FÉVRIER 2021
The Home Journal, tips for a comfortable home. In this home decoration magazine, you will find each month thematic dossiers that seek to present you with beautiful and practical ideas for your home with kadolis gift ideas
API - FÉVRIER 2021
Newsletter pro for business managers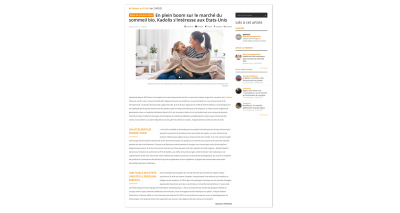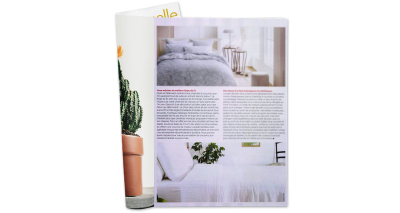 MAISON ACTUELLE - JANVIER FÉVRIER 2021
Discover Maison Actuelle magazine, the only magazine that offers you a wide choice of top-of-the-range interior and exterior decoration and takes stock of the latest housing trends. On the front page of Maison Actuelle, we present our superb crumpled organic cotton bed linen
CONSTRUIRE SA MAISON - AVRIL 2021
The magazine for those who want to build their own house. The main topics are financing, law, technique and decoration. Discover our Kadolis rooms!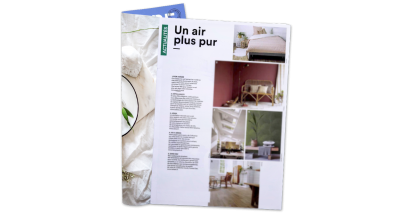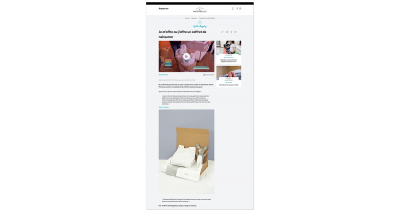 LA MAISON DES MATERNELLES - MAI 2021
From the pregnancy test to the first day of school, La Maison Des Maternelles accompanies parents with a dedicated website 100% video!
CAPITAL - MAI 2021
CAPITAL's ranking of

the

best e-commerce sites in 2021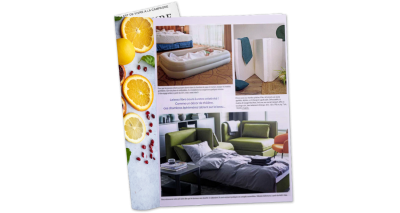 MAISONS À VIVRE CAMPAGNE - JUIN 2021
Maisons à vivre Campagne is a charming decoration magazine, it has been addressing for more than 15 years to the lovers of representative interiors of the . Discover here our clever mattress for adults !

OFFRIR INTERNATIONAL - JUIN 2021
Offrir international is the leading magazine for the tableware, culinary, cutlery, kitchen utensils, small appliances and design gifts for the home. Discover our Kadolis candles in this issue!