-30%
favorite



Soft Night Organic Herbal Tea
star
star
star
star
star
(1&nbspReview)
Ingredients from Organic Farming - Soothing properties - Theine free
This 100% ORGANIC herbal tea with soothing properties will help you fall into the arms of Morpheus more easily. Its ingredients will help you to get rid of your long sleepless nights. 
Free delivery and return from 39€
Description
Wrapped up under your duvet, your head propped up on your pillow, the sheets smelling good, the light off, and the soft silence of the night, everything is there. However, nothing helps: you can't get to sleep. Every night, it's the same masquerade and you dread the moment when you have to go to bed for fear, once again, of not finding sleep. Our Soft Night Organic Herbal Tea will help you break the vicious circle and get back to peaceful nights. 
The ingredients of this Soft Night Organic Herbal Tea, in particular chamomile and St John's wort, will soothe you and prevent you from having long sleepless nights. 
The little extras : 
- 100% recycled packaging
- Theine free 
- 100% organically grown ingredients 
Preparation : 
Use : 1 teaspoon per cup
Infusion : 7-10 minutes
This product, as a foodstuff, is not accepted for return. No exchange or refund will be made.
Ingredients from Organic Farming: Date (date, rice flour), apple, lemon balm, raspberry leaves, chamomile, carrot, fennel, lemon peel, verbena leaves, natural flavouring, varrow (yarrow), hop flowers, St. John's wort, peach, lavender, cornflowers
100 grams bag 
Weight:

100 g

Reference

THBE17
Composition
Ingredients from Organic Farming: Date (date, rice flour), apple, lemon balm, raspberry leaves, chamomile, carrot, fennel, lemon peel, verbena leaves, natural flavouring, varrow (yarrow), hop flowers, St. John's wort, peach, lavender, cornflowers
100 grams bag 
Soft Night Organic Herbal Tea
star
star
star
star
star
1

Review
More recent
More recent
1 star
2 stars
3 stars
4 stars
5 stars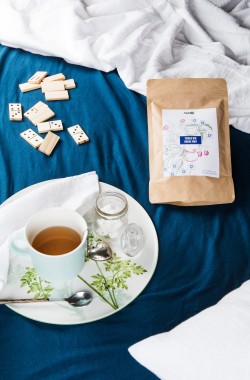 Soft Night Organic Herbal Tea
star
star
star
star
star
Soft Night Organic Herbal Tea
Satisfied
Coralie S

(France), the 02/08/2022
(translated from french)