Calvi baby bed 60x120 cm
star star star star star
(2 Reviews)
-30% €374.17
€261.92 Tax excl.
?
Estimated amount in Dollar des États-Unis
$310.07 US
French manufacture - MDF PEFC - Adjustable bed base
The Calvi bed by Kadolis is an"ecological generation" baby bed entirely made in France. Its Scandinavian style will fit perfectly in your baby's room.
Free delivery and return from 39€
Description
The Calvi bed is a baby bed 60x120cm which will bring a warm and design touch to your child's room.
You will love its Nordic style and its modern colours (white/wood, light grey/wood or anthracite/wood).
The Calvi cot is equipped with a slatted base adjustable in 3 positions (22.5cm, 35.7cm and 49cm) to follow baby's development and ensure his safety.
Spacing between the bars: 4.5 cm.
This bed is designed in MDF "ecological generation" eco-designed, based on PEFC certified wood, it is therefore healthier for baby and the environment.
The packaging of the Calvi collection by Kadolis is all recycled for the packaging. Logistics movements are limited because all Calvi furniture is manufactured in France.
The little extras :
- MDF in Beech certified PEFC
- Water-based paint without emission and without danger for children
- 100% French manufacturing
Our Calvi beds are made in France for Kadolis in the SOFAMO workshops in Charente-Maritime
The Calvi bed is delivered in kit to assemble yourself, assembly guide and screws provided.
Dimensions of the bed :
Outside > Length 124cm - Width 66cm - Height 87.5cmOutside
> Length 120cm - Width 60cm - Height 62cm
Dimensions and weight of the package :
2 packages
- 76 x 47,5 x 11cm 17kgs-
134 x 79,5 x 13cm 13kgs








You can match the chest of drawers and thewardrobe in the same range
The 60x120cm mattress is not included. We offer a wide choice of baby mattresses.
Guarantee : 2 years
Made in France
PEFC
Product Details

Place of manufacture

France

Guarantee

2 years

Norms & standards

NF EN716-1 and 2 of A1 2013

Ecology

Limited environmental impacts

Weight:

30 kg

Reference

CAR375-60-071
Composition
- Emission of VOC classified E1, this threshold is 3 times lower than the strictest standards (European standard E1 from 08 milligrams/100gr of dry matter, we are at 04 milligrams/100gr) - MDF Beech certified PEFC
"ecological generation" eco-designed - Water-based paint without solvent or
volatile component

.
star
star
star
star
star
2

Review
More recent
More recent
1 star
2 stars
3 stars
4 stars
5 stars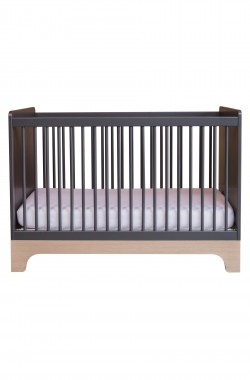 Calvi baby bed 60x120 cm
star
star
star
star
star
Calvi baby bed 60x120 cm
Great product
Audrey B

, the 02/04/2021
I am very pleased with the quality of this bed and my husband and I are very happy with our purchase.
I am very pleased with the quality of the bed
Calvi baby bed 60x120 cm
star
star
star
star
star
Calvi baby bed 60x120 cm
Very good purchase
Pacal L

, the 15/06/2020
Well designed (you can see it during the assembly), well packed, elegant... Professional work, I'm satisfied.