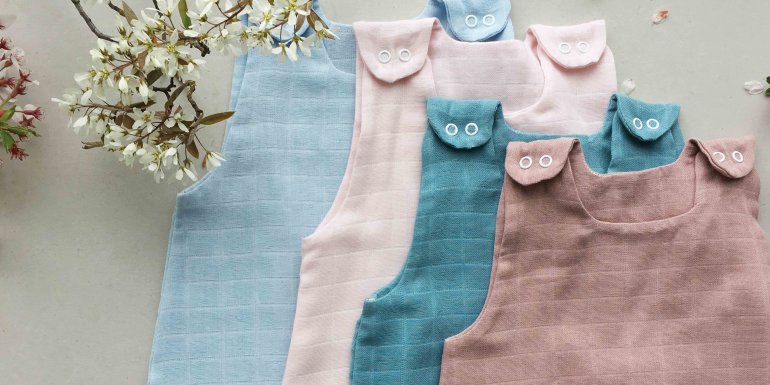 When to move baby from sleeping bag to duvet?
From birth, the sleeping bag is the most secure article to ensure baby peaceful nights. It allows the baby to be wrapped without disturbing his arm movements and allows him to be well covered throughout the night. During the first months of baby's life, it is strongly advised to prefer the sleeping bag to the comforter or blanket to avoid any risk of suffocation.
The sleeping bag, an enveloping cocoon for baby
When choosing a sleeping bag, it is preferable to opt for natural materials, which are healthier for children.
A sleeping bag must be breathable so that baby can regulate his temperature and sleep peacefully. In synthetic materials, baby will often be too hot, sweaty and wake up in a cold sweat. Remember that too much heat during sleep is the cause of many night awakenings, so it is important not to overheat the room (18 °) and use a sleeping bag in Organic Cotton for better air circulation.
For children who have a restless sleep, it is better to keep the sleeping bag until the age of 2 years. Indeed, with a comforter, if your child moves a lot, he will have a tendency to uncover himself and get cold during the night. If your child tends to turn over in bed and end up "head to toe", avoid using a comforter because he could end up completely covered.
The transition to the comforter, a step towards the big bed!
Two years old is often the age when baby abandons his sleeping bag to switch to a comforter. Baby comforters can be used in cribs measuring 60x120 cm and 70x140 cm.
When moving from a cot to a junior bed, the comforter becomes essential, it is even possible to add a flat pillow for a real big bed!
At this age, the child starts to get up by himself, in some cases he gets up at night to pee, the use of a sleeping bag is no longer appropriate.


When choosing your child's new bedding, opt for a natural fiber comforter. Comforters with Organic Cotton or TENCEL™ covers are to be preferred because they allow good air circulation and therefore good temperature regulation in all seasons. Choose a comforter guaranteed without chemical treatment, healthier for your child's health. Banish anti-mite comforters, they have been treated with insecticides! Instead, choose a breathable Organic Cotton comforter and machine wash it regularly.
For the choice of the pillow, choose a flat pillow to avoid creating tensions in the cervicals of the child, used to sleep flat since his birth.
Cover the comforter and pillow set with an Organic Cotton comforter cover with pillowcase, for more softness and to offer your child a sleep totally free of harmful substances. The new ranges of bed linen made of natural materials now offer a wide choice of colors and patterns to fit every child's bedroom.
You may be interested in this article :