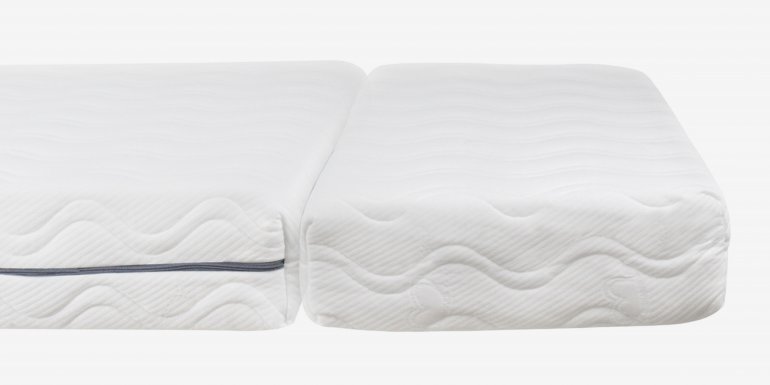 Evolutive baby mattresses?
When baby grows up and has to leave his bed with bars, an essential question arises: which junior bed to choose? Should you choose a classic crib with a bed barrier to protect the sides or should you opt for an evolving crib whose dimensions will evolve as your child grows?
The evolutive bed allows to ensure a perfect safety during the first years of the change of bed, then it is transformed into junior bed (thanks to a kit planned for this purpose) to help the child to gain in autonomy. This evolving bed must be equipped with an evolving mattress with adjustable dimensions.
The mattress for evolving bed, a 2 in 1 mattress
The evolutive beds for child are transformable beds offering 2 different sizes. First, in 90x140 cm size to allow the child to get used to sleeping in a big bed while still being protected by side rails. Then it becomes a junior bed when the child grows up, without having to change the bed.
For these evolutionary beds, there are mattresses specifically adapted composed of two different parts: a 90x140 cm mattress with a 90x50 cm or 90x60 cm part that is added with a zipper to transform into a classic children's mattress.
How do you choose the right mattress for an evolving bed?
Choose a mattress with dimensions exactly adapted to the bed so that there is no space between the mattress and the bed frame. As for a classic mattress, choose a firm or semi-firm mattress that provides good support for the child's body while offering a soft welcome. Firm mattresses guarantee a safe sleep for children.
A mattress made of natural materials such as latex, coconut fiber or TENCEL™, materials that naturally repel dust mites and bacteria, which do not require additional chemical treatment. Trust the OEKO-TEX® Standard 100 certification, which guarantees the absence of harmful chemicals.
Choose a mattress with a removable cover so that the cover can be machine washed regularly. Remember that washing the mattress cover in the washing machine is the best natural way to get rid of dust mites and bacteria.
Evolving mattresses allow you to keep the same mattress when the child grows and changes bed, which extends the life of the mattress, an ingenious idea that allows you to limit waste while controlling your budget.