favorite











Women's pyjama top in organic cotton and Tencel
star
star
star
star
star_half
(15&nbspReviews)
Second skin effect T-shirt - Breathable - 100% ecological

The Sonora women's pyjama T-shirt, offers you an elegant and relaxed look for your cocooning evenings. An ultra-soft pyjama top that will ensure you a soft night's sleep.
Free delivery and return from 39€
Description
The Sonora Women's Pajama T-Shirt is an essential to add to your homewear wardrobe. A short-sleeved T-shirt with a V-neck that offers a casual and elegant style. It is available in 3 plain colours and 2 trendy prints.
This women's pyjama top owes its softness and second skin effect to its combination of Tencel™ brand Lyocell and organic cotton, two natural materials that offer excellent air circulation and help limit excessive perspiration.
Tencel™ brand Lyocell, made from eucalyptus wood pulp, regulates the temperature and gives you a feeling of coolness in summer and warmth in winter. The organic cotton ensures a better respect of the skin and is suitable for the most sensitive skins.
No more heat sensation that disturbs your sleep, thanks to this night t-shirt in Lyocell from Tencel™ and organic cotton, you will benefit from an ideal temperature for a quality sleep.
This night T-shirt is sold alone and can be combined with pyjama bottoms( trousers or shorts) in the same or different colours to create a personalised homewear set.
The little extras:
- Made from 100% natural materials
- Guaranteed without any chemical treatment
- Quick drying thanks to Tencel™ brand lyocell
- Zero plastic packaging: delivered in a small reusable fabric cover
(Our mannequin is 1m78 tall and wears L)
If you hesitate between two sizes, prefer the bigger size for more comfort, as it is a pyjama, we sometimes prefer more amplitude.
Made in Europe
Organic cotton
Tencel™
Oekotex 889 CITEVE
Product Details

Place of manufacture

Portugal

Certification

OekoTex ® n°889- CITEVE

Treatment

No chemical treatment.

Ecology

Limited environmental impacts

Care instructions

Possible to wash in machine at 30°C / No tumble-dryer

Like

Woman

Weight:

180 g

Reference

PYJSOFTSKAXS
Composition
67% TENCEL™ lyocell (natural material made from eucalyptus wood pulp)
33% cotton from organic farming
Women's pyjama top in organic cotton and Tencel
star
star
star
star
star_half
15

Reviews
More recent
More recent
1 star
2 stars
3 stars
4 stars
5 stars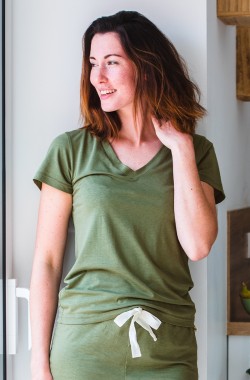 Women's pyjama top in organic cotton and Tencel
star
star
star
star
star
Women's pyjama top in organic cotton and Tencel
Thanks a lot dad
Cyril M

(France), the 05/17/2022
(translated from french)
Women's pyjama top in organic cotton and Tencel
star
star
star
star
star
Women's pyjama top in organic cotton and Tencel
All right
Grégoire M

(France), the 04/16/2022
(translated from french)
Women's pyjama top in organic cotton and Tencel
star
star
star
star
star
Women's pyjama top in organic cotton and Tencel
Gorgeous fabric
Luisella P

(Italy), the 03/13/2022
(translated from italian)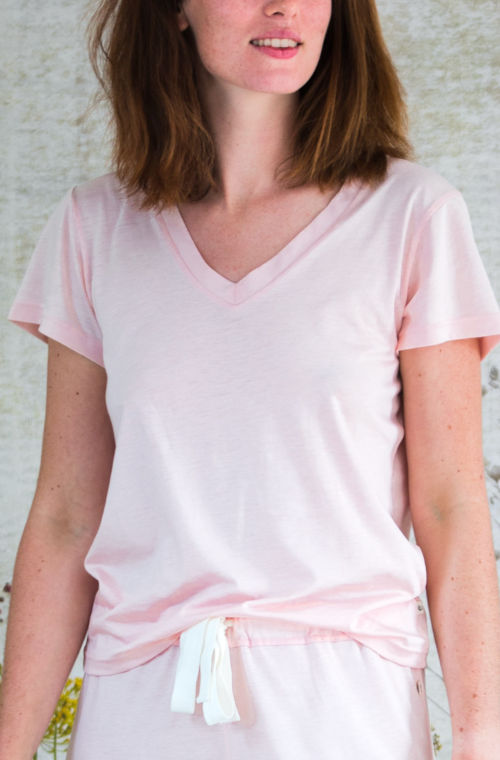 Women's pyjama top in organic cotton and Tencel
star
star
star
star
star
Women's pyjama top in organic cotton and Tencel
Great fit
Síne D

(Southern Ireland), the 03/09/2022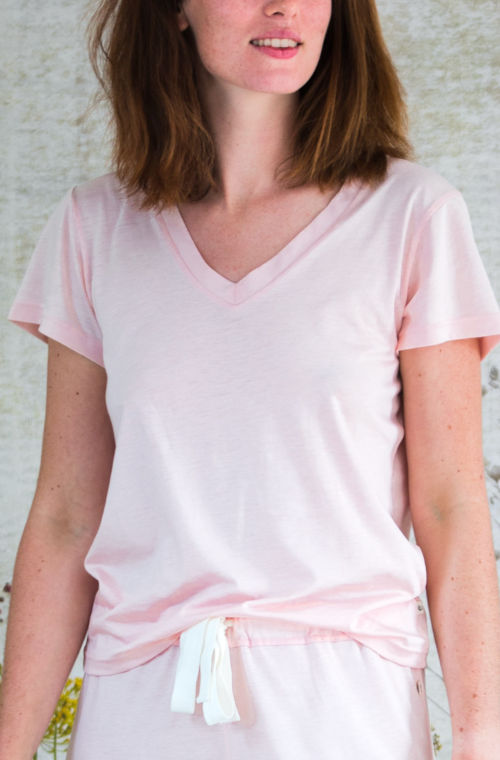 Women's pyjama top in organic cotton and Tencel
star
star
star
star
star
Women's pyjama top in organic cotton and Tencel
well-cut
Camille P

(France), the 02/28/2022
(translated from french)