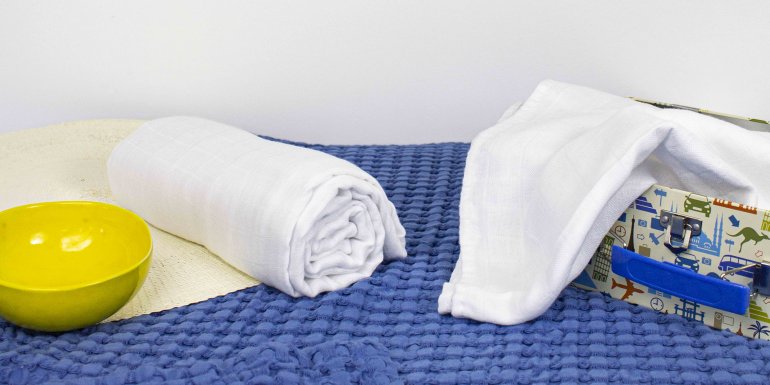 Other uses of the baby diaper....
We saw in a previous article the qualities of the baby nappy, an article that must be included in the baby's birth kit and that will accompany you for a long time to come, and after the nappy used as a blanket, changing mat, bib and mattress protector, let's look at some other uses of this baby essential.
The sunshade diaper
The diaper is practical in summer to protect baby from the harmful rays of the sun, it is positioned on the stroller to prevent baby from having the sun in his eyes but also to protect him from the wind In the car, you can trap a maxi-diaper in the window to limit the sun's rays, in case of great heat a wet diaper will cool the atmosphere of the car.
The diaper as protection for clothes
When baby has a toothache, he puts his hands in his mouth, drools a lot and wets his clothes, so don't hesitate to place a diaper around his neck, an item much more chic than a bib, don't hesitate to match the diapers to baby's clothes, choose plain or patterned diapers, according to your desires.
The diaper for baby wrapping
Maxi-changes can be used to swaddle babies, a technique widely used in Asian countries and which would soothe children by limiting uncontrollable movements; the child feels like he is in a reassuring cocoon that reminds him of his mother's belly; the swaddling technique is only used during the first few weeks, but before you start, don't forget to talk about it with your pediatrician beforehand.
The diaper at the service of mothers
The diaper can also be useful to mothers in many ways, such as covering their breasts during breastfeeding, while the thinness of the linen fibre allows you to preserve your privacy without disturbing baby during the feeding.
The cuddly diaper
Thanks to its fine and ultra soft material, the diaper is very often chosen by babies as a cuddly toy, the cuddly toy is practical to grab with small hands, its ultra fine material is safe for children even if they place it on their faces while sleeping, choose a healthier Organic Cotton diaper for babies, especially if they put it in their mouths, it is easy to buy several diapers of the same colour to wash them regularly when they are dirty, and its little extra advantage, in case of loss, it is easily replaceable!