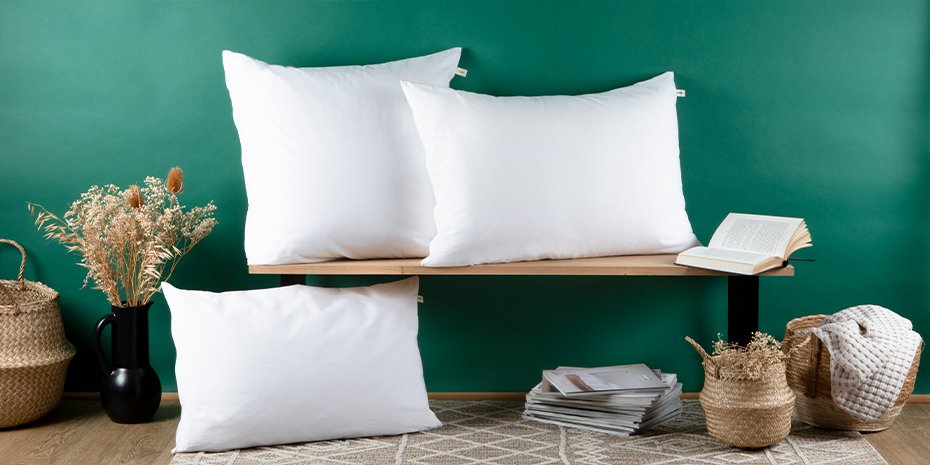 Which pillow to sleep well?
The pillow is an essential element of sleeping and is sometimes the cause of many questions. Should you choose a soft, firm, ergonomic, latex or feather pillow? It is difficult to answer because each sleeper is different and the choice of the pillow depends on the comfort needs of each one, but also on his morphology and his sleeping habits. Indeed, we do not choose the same pillow if we sleep on our back than if we sleep on our stomach. To better guide you in the choice of your future pillow, here is a small summary of the different models available on the market.
The different types of pillow
The classic pillow comes in a square or rectangle shape, it is usually 60x60 cm or 70x50 cm. Depending on the model, the pillow can be more or less voluminous, soft or firm, to suit everyone's needs.
The filling can be made of synthetic material, recycled fiber or natural fiber. Soft pillows are particularly suitable for side sleepers as they can be "shaped" to fit in the hollow between the shoulder and the head. Firmer pillows are more suitable for people who sleep on their backs to ensure good neck support.
The ergonomic pillow has a slightly curved shape to follow the shape of the neck, it is recommended for optimal support of the cervicals and allows the head to be perfectly aligned with the spine. The ergonomic pillow is recommended for people who sleep on their side. It is often made of latex or memory foam.
The inclined plane for adults is not a real pillow but allows to raise the upper part of the body in order to facilitate breathing and to limit snoring. The inclined plane can be associated with a pillow without any concern.
Which filling should I choose for my pillow?
It is important to choose a soft filling made of synthetic or natural fiber, but always without any chemical treatment. Choose an OEKO-TEX® certified pillow that is healthier. Don't forget that you will spend between 6 and 8 hours a night with your head on it, so you might as well avoid chemicals!
DACRON® HOLLOFIL® ECO siliconized fibers are perfect for comfort and pillows containing them can be machine washed regularly.
Feather pillows are also very comfortable and completely natural, and can be machine washed from time to time on a delicate cycle. It is therefore important to protect them with one or more pillowcases.
Foam is used for ergonomic pillows and for inclined planes, depending on its density, it offers a more or less firm support. It is preferable to choose a profiled foam that limits the sensation of heat and limits perspiration.
Also, make sure you choose OEKO-TEX® certified foam, guaranteed without chemical treatment, so that you don't breathe in chemicals and get a healthier sleep.