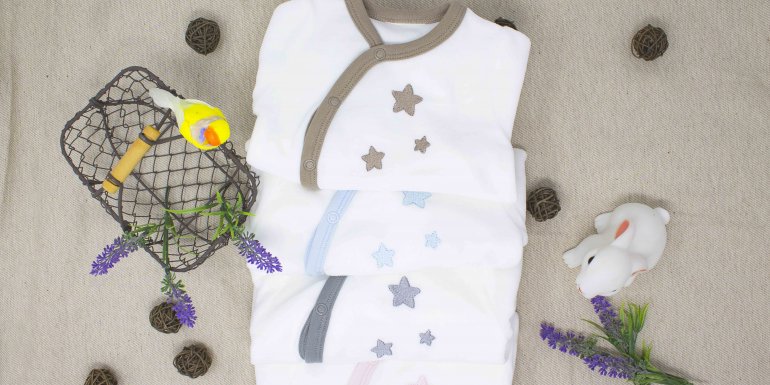 The ideal pyjamas for baby
The baby pyjamas are often the first purchase of the heart, it is true that it is easy to fall for a small velvet pyjamas ultra soft, we already imagine his future baby wearing this adorable outfit ... The pajamas are among the first items that mothers-to-be buy for their baby, it is also an essential in the dressing room of toddlers because it is the most comfortable outfit to sleep and as babies sleep a lot, it is imperative to have a nice collection!
Which material for a baby pyjama?
To preserve the little ones from all the chemical substances and to avoid sweating during the night, prefer natural materials. Organic Cotton is THE ideal material to dress baby, especially during the night, it allows a good air circulation between the fibers and thus a good temperature regulation. It is necessary to know that the toddlers have difficulty to regulate their temperature, the Organic Cotton allows them not to be too hot during their sleep and not to wake up too often.
The Organic Cotton pyjamas can be worn in summer as well as in winter provided that the sleeping bag is adapted : a winter sleeping bag when the temperature of the room is lower than 20° and a summer sleeping bag when it exceeds 20°.
Which shape for a comfortable sleeping bag?
For the newborns, the pyjamas dors-bien or pyjamas one-piece are those to be privileged, the pyjamas two-pieces are to be reserved for the children of more than one year. Choose pyjamas with feet so that you don't have to wear socks (which baby will lose during his sleep!).
Different types of closures are available: the back-deck closure, with snaps in the back and at the level of the diaper or the closure on the front and the crotch which facilitates the change during the night.
Avoid fancy pajamas with multiple patches that can create irritations on fragile skin, also avoid colors too flashy but prefer soft colors that promote soothing. Banish hoods that can be embarrassing and even dangerous for baby
To protect baby's skin against rubbing from seams or snaps, always combine pajamas with an Organic Cotton bodysuit. In the middle of summer, if the temperature exceeds 25°, baby will be able to sleep just in a bodysuit in his light turbulette.