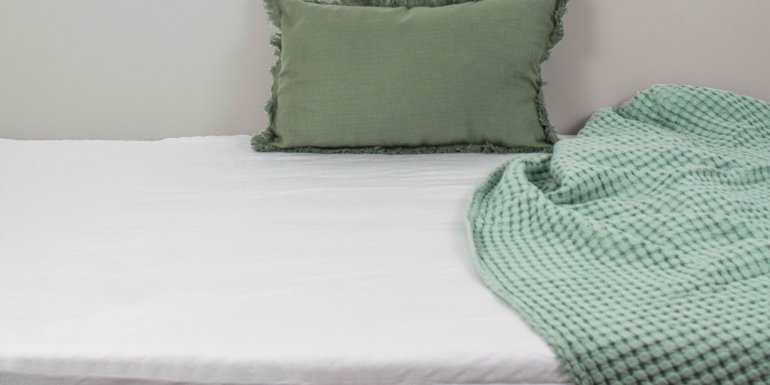 The simplicity of the 2 in 1 fitted sheet
To keep your mattress looking new, it is essential to cover it with a mattress protector. This will prevent stains due to small accidents in the life of the baby, but also when the child grows up and learns to be clean. In an adult bed, the mattress cover protects the mattress against sweat stains.
To cover the draw sheet, the fitted sheet is essential for a soft and pleasant contact, it is often chosen in organic cotton for a good air circulation and a better respect of the sensitive skins.
The 2 in 1 fitted sheet for baby mattress
The 2 in 1 sheet is a real revolution, it combines all the advantages of a waterproof sheet with the comfort of an ultra soft fitted sheet. A 2 in 1 product that is easy to use, easy to wash and ideal for travel!
The 2 in 1 sheet fits all sizes of baby mattress. It exists in classic mattress size, but can also be found in crib or baby carriage size, easier to change and install than two different sheets. The 2 in 1 sheet is also very practical to cover a travel mattress in an umbrella bed, a single handling, to save you efforts and take care of your back.
Fitted sheet for children's mattress
The fitted sheet is very useful for children's mattresses. It is suitable for single mattresses and for crib mattresses. It is a very practical item to take to grandparents' or friends' houses, which the children can install themselves on the extra mattress.
For adult mattresses, it facilitates the change of sheets and the handling of mattresses, which is often laborious. A single gesture for a double protection, protection of the mattress by a waterproof sheet and protection of the skin by an ultra soft fitted sheet.
A 2 in 1 fitted sheet in Tencel® Lyocell
For maximum comfort, choose a PVC-free fitted sheet with a thin layer of polyurethane, a breathable material that lets air through but stops liquids. Make sure it is made of natural materials like organic cotton or Tencel®. Kadolis fitted sheets are made of Tencel® Lyocell A 2 in 1 fitted sheet made of Tencel® Lyocell, a material made from eucalyptus pulp with natural air conditioning properties, which regulates the temperature to provide a comfortable bed in all seasons.