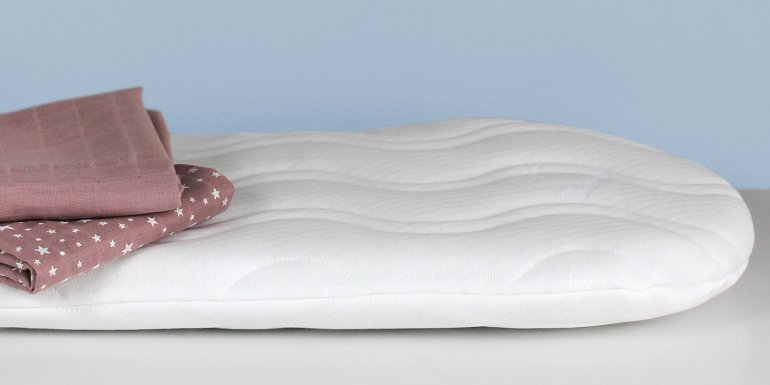 How to choose a baby mattress?
Among the many models available on the market, it is often difficult to choose the mattress for your future baby. This choice is however capital when we know that baby will spend more than 12 hours a day sleeping on it. To make the right choice it is essential to take into account the following criteria:
The dimensions of the baby's mattress
For a question of safety, there should be no space between the bed and the mattress. The baby's mattress must be exactly the same size as the bed, so don't worry about standard cribs measuring 60x120 cm or evolving beds measuring 70x140 cm, as many mattresses are available in these two sizes.
For "atypical" beds or beds handed down by grandparents, it is best to have a custom-made mattress made so that there is no space between the bed and the mattress.
The thickness of the mattress is also important, a thickness between 10 and 12 cm is recommended to give babies optimal support.
During the first months of life, baby spends a lot of time in his crib or baby carriage, so it is important not to neglect the choice of mattress for these small beds. Crib mattresses are available in many sizes to fit all cribs on the market. Baby carriage mattresses, on the other hand, have a rounded shape to fit the shape of the carrycot perfectly.
A baby mattress with a removable cover
The baby's mattress must be removable so that the cover can be removed regularly and machine washed. The ideal is to choose a mattress with a ticking made of natural material, such as TENCEL™, made from eucalyptus wood pulp, with thermoregulatory properties. TENCEL™ naturally regulates temperature during sleep and limits excessive sweating. When a baby sweats less he sleeps better!
Choose a mattress without chemical treatment
Most baby mattresses are covered with an anti-mite or antibacterial treatment, biocidal treatments that are allergenic and in the long term toxic for children. Prefer natural baby mattresses and mattresses guaranteed without any chemical treatment. The OEKO-TEX® and Certipur certifications guarantee materials without dangerous substances, which preserve baby's health and guarantee a healthier sleep.
Be careful when choosing a mattress protector
If you choose a mattress made of natural materials with a removable cover, be careful not to cover it with a non-breathable PVC cover. These covers would totally cancel out the benefits of a breathable mattress. Instead, opt for a breathable mattress cover in polyurethane and Organic Cotton that provides good waterproof protection but also good air circulation to limit excessive sweating. These underpads are also totally silent and more comfortable for the child.