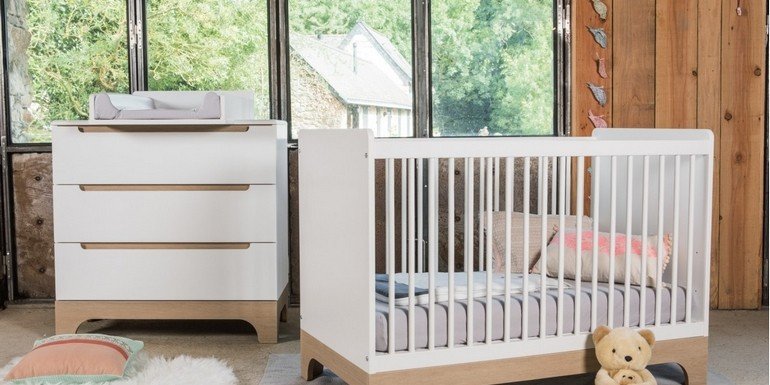 How to furnish the baby's room
The decoration of the baby's room is a subject that delights all parents! What a pleasure it is to decorate the room of your future baby, to choose tender colours, decorative objects and cuddly toys. But in the choice of materials and colors, it is important to respect certain rules so that the room becomes a small cocoon favourable with the relaxation and the rest.
Furniture for the baby's room
In order to create a soothing atmosphere in your baby's room, you should avoid overloading the furniture. Choose solid wood furniture, which emits fewer chemical substances than chipboard furniture, and which is covered with a special, less toxic paint for children. In any case, make sure you install the new furniture a few weeks before baby's arrival and air the room every day.
The baby's bed
Thecot is obviously the essential piece of furniture for the baby to be able to sleep in complete safety.
The baby's mattress
Pay attention to the choice of mattress, choose a firm model to prevent baby from sinking into it and make sure you choose a mattress with the exact dimensions of the bed. To ensure a healthier sleep for your child, opt for a mattress made of natural materials to limit the emission of harmful substances in his room. Don't forget that a baby sleeps about 20 hours a day, so it is essential that he is in contact with healthy and natural materials.
If for budgetary reasons you cannot offer your child a 100% natural mattress, choose a mattress without chemical treatment, a mattress with a removable cover so that you can wash the cover regularly and eliminate dust mites.
Storage furniture
The chest of drawers is the ideal piece of furniture for storing the essentials of your baby's wardrobe. The drawers make it easy to organise bodies, pyjamas, bibs and nappies. Depending on the size of the room you can add a wardrobe from the same range. As for the changing table, it can be installed in the bedroom if it is large enough, but it is often more practical to install it in the bathroom, near a water point.
The bed linen
For your baby's bed, choose the bare minimum and use natural materials. For the first few months, choose a breathable mattress cover to protect the mattress from leaks, a fitted sheet in Organic Cotton and that's it! Baby should sleep in a sleeping bag, the essential item that allows him to stay warm, without any risk, while remaining free to move.
From 18 months onwards, it is possible to switch to a baby duvet (always adapted to the size of the bed) covered with a pretty duvet cover made of natural material and guaranteed without chemical treatment.
Choosing the right colours for your baby's bedroom
This choice should not be made lightly and should not only take into account your taste. To create a reassuring environment for baby, choose light and soft colours such as white, beige and all pastel shades. It is possible to add touches of darker or brighter colours, but only on bed linen, frames or a decorative hanging lamp.