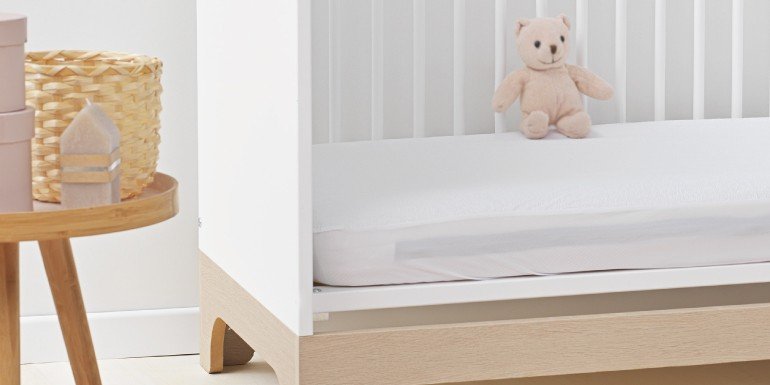 Protecting baby's mattress with a mattress cover
It cannot be repeated often enough: the quality of the bedding is crucial for the well-being of the little ones. Remember that newborns sleep between 12 and 16 hours a day, and must therefore be comfortable. While choosing a quality baby mattress is essential, it is equally important to keep it in good condition for as long as possible so that the child can enjoy a healthy sleep until he or she moves on to a bigger bed.
Why protect baby's mattress with a mattress protector?
Opting for a new mattress is essential to maintain good hygiene and limit the risk of allergies. But to keep this beautiful mattress in perfect condition, it is imperative to protect it with a mattress cover. Without this protection, your child's new mattress will quickly be stained by the little accidents of baby's life (nappy leaks, vomit, etc.) but also by the rings caused by excessive perspiration, particularly on the head.
By choosing a waterproof and breathable baby sheet you protect the mattress against moisture and therefore against the proliferation of bacteria and mould. You keep it looking new for longer and give your child a healthier sleep.
The mattress cover therefore allows you to extend the life of the mattress, very useful for baby mattresses, it is also essential to protect junior mattresses that will accompany your children until they reach adolescence!
Which mattress cover should I choose to protect my baby's mattress?
The best undersheets are those made of natural materials, guaranteed without chemical treatment, for a better respect of baby's fragile skin. Organic Cotton and Lyocell from the Tencel® brand are the materials used in Kadolis undersheets, they ensure an ultra soft touch, but also a good air circulation between the fibers for a better temperature regulation and to limit excessive sweating. Our underpads do not contain PVC but a thin layer of polyurethane, quieter and more breathable, without plastic effect.
Make sure you choose a fitted sheet with rounded corners so that it stays perfectly in place even if baby moves around a lot. It should also be machine washable for easy care.
What to think of the 2 in 1 undersheets?
Sometimes called the magic fitted sheet, the 2 in 1 fitted sheet offers a lot of comfort to babies and a great simplicity of use to parents. It is a fitted sheet with an integrated undersheet to ensure on the one hand a soft touch in contact with baby's sensitive skin, and on the other hand a protection of the mattress thanks to a thin layer of polyurethane which blocks liquids but lets air pass. The 2 in 1 sheet therefore offers optimum protection for baby's mattress.
It offers many advantages: space saving, time saving when changing sheets and savings on washing. Optimal protection in a single step! Easy to carry, it is particularly recommended on holiday, to cover the mattress when travelling or to protect the bed at the grandparents'.