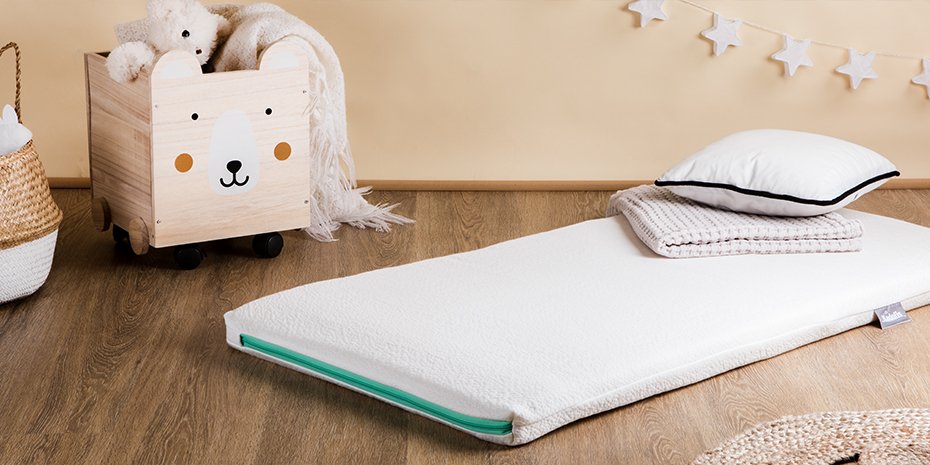 Going on vacation in the sun with baby
The long-awaited vacations have finally arrived and departure is near! But before taking full advantage of this period of relaxation with family or friends, two important tasks remain to be accomplished: preparing baby's suitcase, an often complex task that consists in traveling light without forgetting anything... and traveling with baby in the best possible conditions. Here are some tips for a successful vacation.
Preparing Baby's suitcase
Pack enough clothes, bodysuits, pajamas and bibs to avoid doing laundry during your stay. For vacations by the sea, choose light and easy to wear clothes: cotton T-shirts and shorts, light dresses, short suits, clothes made of natural materials that don't need ironing. Don't forget to add a few warm clothes for the eventual bad weather days.essential items in the summer suitcase: hat, sunglasses and sunscreen for maximum UV protection.
Ensuring quality sleep for your baby during the vacations
Your baby is used to his little bed with a comfortable mattress and soft bedding. During the vacations he will have to get used to a different bed and mattress, but there is no question of giving up comfort, so don't hesitate to take a baby travel mattress, a quality mattress, without chemical treatment, which will offer your child a comfort almost identical to the one he is used to. To accompany this travel mattress, choose a breathable undersheet and a fitted sheet in Organic Cotton to ensure a perfectly healthy sleep. Depending on the age of the child, take one or two summer sleeping bags or a light comforter. The summer sleeping bag, designed without padding, offers baby a reassuring cocoon without providing too much heat. If your baby is over one year old and sleeps with a comforter, choose a thin comforter adapted to the summer season and cover it with an Organic Cotton comforter cover.
Travel with baby
Traveling by car with a baby
the car is still the most popular way to travel. If you are going to travel for more than 5 hours, try to leave as early as possible in the morning to avoid the heat and so that baby can sleep. Of course, avoid long travel days and take regular breaks.try to maintain a pleasant temperature in the car without setting the air conditioning too high. When baby is awake, offer him a drink often and try to propose activities to him so that he does not become impatient (reading, music or toys). For baby's safety, it is obviously forbidden to detach him from his car seat, even if the vehicle is stuck in a traffic jam!in case of hot weather, cool baby down with a spray bottle or a wet diaper that you can pass over his face and little legs.
Traveling by train with baby
there is no contraindication to taking the train with a baby. Depending on his age, he can be held in your arms, installed in a baby carriage or in a stroller. Babies who travel in a baby carriage will enjoy a better quality of sleep because the baby carriage mattress offers excellent comfort. Your baby will arrive at his vacation destination refreshed and ready to go!in the train, the air-conditioning can also be strong, think of slipping baby into a sleeping bag or covering his legs with a diaper, and install baby preferably on the corridor side because the air-conditioning vents are installed under the windows.if you travel by TGV, you should know that they have nursery areas where you can change your baby quietly and warm up his bottle if necessary. For solid meals, it is also possible to heat them up in the restaurant car.
Flying with baby
it is possible to travel by plane with baby from the age of 2 weeks, but we advise you to ask your pediatrician for advice.in general, parents with young children are allowed to board first to limit the time in line. Once you are on the plane, beware of the often strong air conditioning, bring a sweater or a blanket in which you can wrap your child. The air is often very dry in the cabin, it is important to often offer drinks to your children, drinking will also allow them to swallow in order to limit the pressure on their eardrums during takeoff and landing.