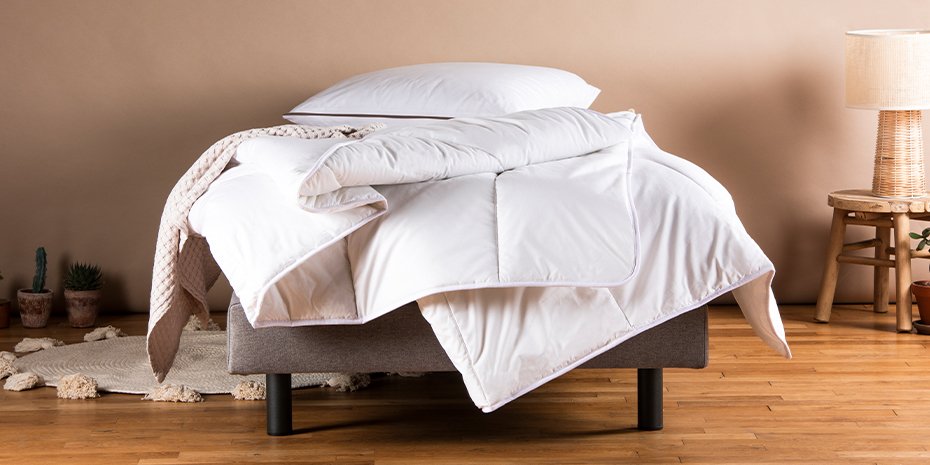 Which duvet for my child?
Many parents hesitate between a comforter and a sleeping bag. The sleeping bag is of course to be preferred during the first months of the child for a question of safety but when can we put baby under a comforter?
Before the age of one, the sleeping bag is ideal, it wraps baby perfectly without hindering his movements, it keeps the most turbulent children warm and prevents them from uncovering themselves during the night. When the child reaches the age of one year and starts to move alone and to stand up in his bed, it is time to replace the sleeping bag by a baby comforter.
Which comforter to choose for baby?
If possible, choose a new comforter, forget about the old comforter that you have had for several years and that is no longer really hygienic... Choose comforters made of natural materials that are always healthier for your child and especially OEKO-TEX® certified articles that have not undergone any chemical treatment, don't forget that your baby will spend all his nights in contact with this comforter...
Cotton and Lyocell from TENCEL™s are to be preferred because these materials allow for better temperature regulation, which prevents the child from sweating too much.
For feather enthusiasts, there are duck down comforters that are ultra-light and offer perfect thermal insulation.
To maintain good hygiene, the comforter must be washable. Baby and junior duvets fit easily into the washing machine, but be careful to follow the washing instructions to keep the comforter's properties.
What size comforter should I choose for my child?
There are different sizes of comforters for children. It is obvious that for a question of safety the size of the comforter must be adapted to the size of the bed.
The baby comforter:
The 100x140cm size is specially designed for baby beds (cots with bars) that the child usually keeps until he is 2 years old.
The child comforter:
When the child moves to a junior bed, opt for a 140x200cm comforter or more specific dimensions such as 140 x 150 cm or 200 x 200 cm.
Protect the comforter with a nice comforter cover
To keep the comforter in perfect condition, it is imperative to protect it with a comforter cover. Choose it in a natural range, by privileging the organic materials to limit the harmful substances. A comforter cover made of Organic Cotton will offer your child an incomparable softness while guaranteeing a healthy environment
The comforter cover is also a way to bring a decorative touch to the baby's room. Go for sobriety and uniformity by matching the comforter cover to the fitted sheet or play the mix and match game by choosing different colors.
Want to bring a sparkling touch to a room with white walls? Choose a comforter cover in bold colors, totally in trend, such as eucalyptus green, honey or terracotta, in plain or patterned versions.