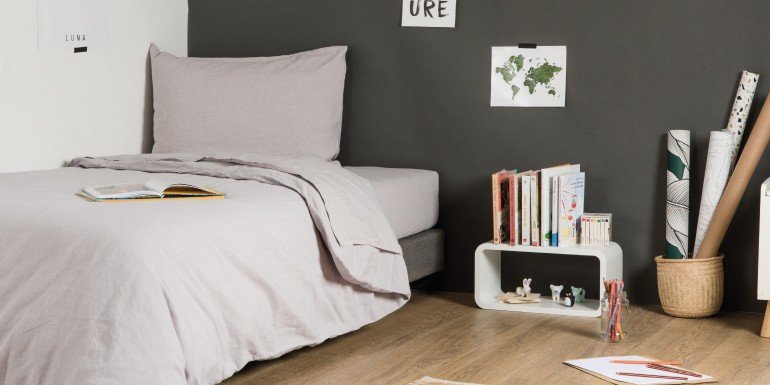 Setting up a teenager's room
Summer is coming to an end and it's time to go back to school. For children, the beginning of September is synonymous with a new start: a new class, sometimes a new school, new resolutions... And why not a new room?
Going from a child's room to a teenager's room
Going to college or high school is a new step towards life as a teenager or an adult, so the child wants to change the atmosphere in his room. Gone are the childish decorations, the stuffed animals, the toys and the little beds, children want a big bed and a decoration that looks like the young adults they have become.
The change of decoration must obviously be done in consultation with the child. What kind of atmosphere does he/she want to adopt? What colors? What furniture? When rearranging a teenager's bedroom, if some furniture such as the chest of drawers or the wardrobe can sometimes be kept if their style is not too "baby-like", it is essential to change the bed and the mattress.
Sleeping in a big bed
For the choice of bedding, some children wish to stay in a junior bed, in this case opting for new bed linen can be enough to change the atmosphere of the room. Choose a pretty Organic Cotton comforter cover in a plain color if the walls are strewn with patterns, if on the contrary the walls are plain, a printed comforter cover will bring a decorative touch to the room.
For teens who want to move into a queen-size bed, choose a mattress made of natural materials with a cover that ensures good temperature regulation because teens sweat a lot, especially during the night. Don't forget to protect the new mattress with a mattress protector, no your big kid won't wet the bed anymore... but the mattress could be stained by sweat stains. Organic Cotton bedding will allow better air circulation than synthetic sheets, for a better regulated sleeping temperature.
To sleep peacefully without being cold or too hot, choose a light and breathable comforter, which provides the necessary warmth for a perfect sleep. Comforters containing TENCEL™ are particularly indicated to ensure an ideal temperature summer and winter.
For the choice ofpillow, teens will be able to choose between a square or rectangle pillow, a flat or larger pillow depending on their preferred sleeping position.