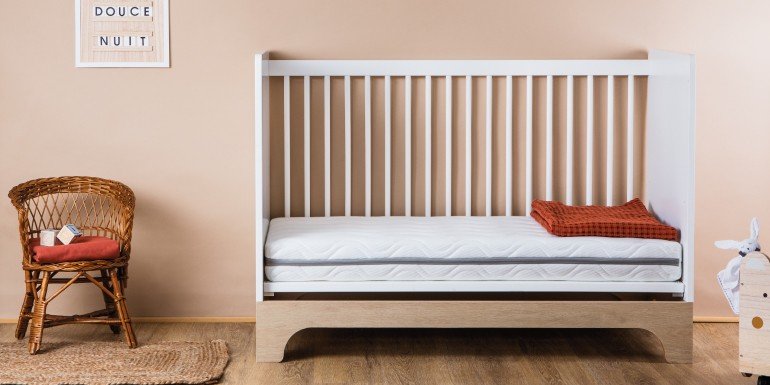 The essentials for the arrival of baby
The arrival of a baby is a big moment in the life of a family. And what could be more exciting than preparing his room so that he feels comfortable in his new little cocoon? But what are the really essential items for his well-being, what are the must-haves?
We will help you select the products that will allow your baby to sleep better and safer.
Choosing the right bed for baby

For baby to sleep safely, the best choice is undoubtedly the wooden cot. Choose FSC-certified wood and make sure that the paint or varnish that covers it is a water-based paint, especially for children. The bed base should be adjustable in height to adapt to the child's size and prevent him from falling out.
If you choose aTipi bed inspired by the Montessori method, choose a bed with a box spring so that the air can circulate between the mattress and the floor and thus avoid any condensation. Choose a breathable mattress made of natural materials.
Which mattress for my baby?

The baby's mattress must be firm to prevent the baby from sinking into it. A firm mattress may seem uncomfortable but it is much safer for baby's sleep. A mattress that is too soft would be dangerous. Prefer natural fiber mattresses, which are more breathable and healthier for the health of toddlers who spend many hours lying on them. The baby's mattress must be removable so that the cover can be washed regularly (in case of accident but also to eliminate dust mites). And above all, choose a baby mattress that is OEKO-TEX® certified and guaranteed not to contain any chemical treatments. Ban all mattresses that have undergone an anti-allergy or anti-mite treatment, as the substances used are dangerous to health.
Choose Organic Cotton bed linen

Choose Organic Cotton bedding, which is softer on the skin and more suitable for sensitive and reactive skin. Baby's mattress should be protected by a PVC-free breathable undersheet and covered with an Organic Cotton fitted sheet.
How to dress baby for sleep?

To ensure a safe sleep for baby, the sleeping bag is the essential item! No comforter or sheet before the age of 18 months which could be dangerous. Baby should sleep with a bodysuit, pajamas in a sleeping bag. These sleep clothes must be selected in a range of Organic Cotton for more softness and a healthier sleep.