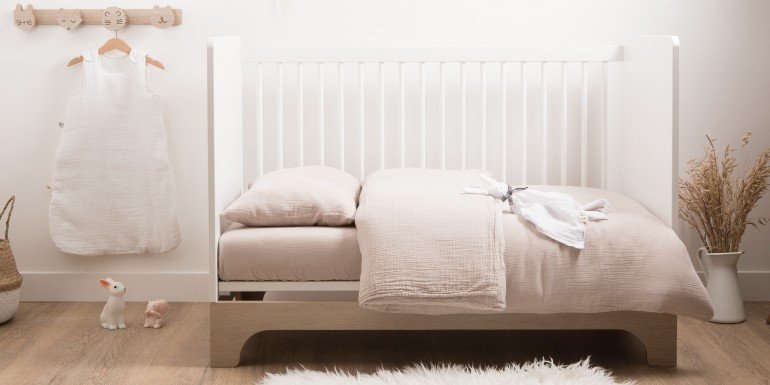 How can you ensure a healthy environment in your room?
After having applied the simple rules of a refined decoration, a well tidied up and aired bedroom every day (even during the cold season), here are some additional advices to ensure you a perfectly healthy bedroom, to benefit from a better quality sleep.
Choose natural materials guaranteed without chemical treatment!
This is priority number 1, in fact, you can air your room every day, if you continue to sleep on a synthetic mattress, made from petrochemicals and having undergone an insecticide treatment to fight against dust mites, you will continue to breathe toxic substances throughout the night! So start by changing your mattress, opt for a natural mattress, certified OEKO-TEX® and guaranteed without any chemical treatment.
Clean your bedding
Choose a mattress with a removable cover so that you can wash the cover regularly and thus eliminate dust mites in a completely natural way. Wash the mattress cover in the washing machine and dry it outside. Very easy in the summer, more difficult in the winter but you can enjoy a nice sunny day and your mattress cover will be as good as new!
Remove the mattress from the box spring and vacuum the box spring to remove dust.
Wash your duvet regularly
Choose a certified duvet without chemical treatment and wash it once or twice a year. Single duvets can be washed in a conventional washing machine and dried in a tumble dryer, for double duvets you will have to go to the nearest launderette. Don't forget to bring 3 tennis balls to put in the dryer with your duvet so that it will be as fluffy as possible.
You can do the same for your pillows.
Choose bed linen made from natural materials
Avoid synthetic sheets and duvet covers, which increase perspiration during sleep. Choose Organic Cotton bed linen or a nice duvet cover made of Organic Cotton and linen, breathable materials that offer a very soft touch and help regulate the temperature.
For the maintenance of bed linen, a 40° wash is enough to eliminate dust mites and bacteria, but you can also wash at 60°. A few drops of white vinegar will fix the colours of your sheets and duvet covers and guarantee perfect hygiene.
Don't forget to regularly remove dust from your bedside tables, dressers and small decorative objects.