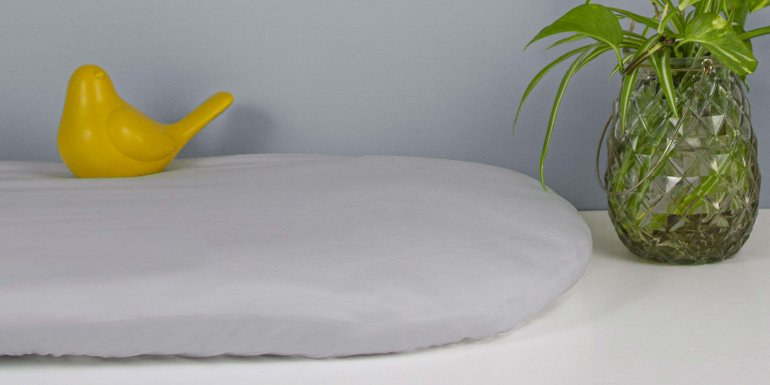 Choose the bed linen for your baby
For baby to sleep well, choosing a good mattress is essential, but that's not all - you also need to choose good bed linen!
The first rule: choose natural materials that will limit the risk of allergies and allow better air circulation.
To protect the mattress against leaks and keep it healthy and clean for many years, it is essential to cover it with a mattress protector. But don't use a plastic sheet like in some hotels! PVC blocks air circulation and causes excessive sweating, and it makes noise every time you change position! To combine comfort and protection, opt for a sheet made of Organic Cotton or Tencel fibre and polyurethane. This material is both waterproof and breathable, so it blocks liquids while letting the air breathe, the result? A protected mattress and a child who does not sweat!
Fitted sheets for babies should also be chosen from natural materials, for the softness they provide.
To combine protection and simplicity, opt for the 2-in-1 fitted sheet, a fitted sheet made from ultra-soft Tencel that regulates temperature, combined with a thin layer of waterproof polyurethane. One sheet for two uses, one sheet to put on the mattress, one sheet to put away, one sheet to take on holiday: what comfort!
For babies under one year old, it is advisable to use a sleeping bag , choose it in cotton, a soft, natural, breathable and easy to wash material, it is always practical in case of a small accident...
When baby grows up you can choose a duvet, always opt for an Ecolabel duvet and choose a duvet cover... in natural material of course!