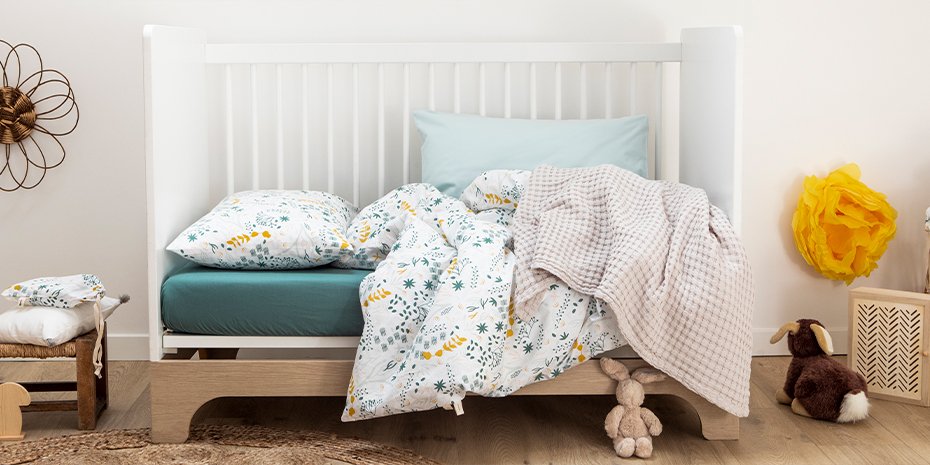 How to arrange the baby's room?
A calm, happy baby who sleeps well is what every parent dreams of! And contrary to what some people say, babies do not sleep just anywhere! They need a peaceful environment, in which they feel reassured to be able to benefit from a quality sleep. This is partly due to the layout of his room, to put all the chances on your side here are some tips for an optimal layout of your baby's room.
The best place for baby to sleep: his own room!
First of all, ideally, baby should be alone in his room (when the configuration of your home allows it, of course...). Baby's room should be his or her own space, so don't store other children's toys or your own things in there, make sure you have a clean space!
Depending on the space you have, try to arrange the room in such a way that it is easy to move around. Remember, for the first few weeks you'll need to go in several times each night. Make it easy to get around the bed, have a comfortable area for breast or bottle feeding and a changing table on a dresser if the room is far from the bathroom. Provide a lamp with soft lighting so that you are not dazzled in the middle of the night.
If possible, the bed should not be placed behind the door, so that baby can see who is entering the room, and this from a very young age. Sleeping behind a door can cause stress that can disrupt sleep, this is true for children but also for adults!
The temperature of the room should not exceed 19°, in winter do not overheat the room and in summer ventilate as much as possible when it is cool and close the shutters during the day. If the temperature exceeds 22°, uncover baby by choosing light pyjamas and a summer sleeping bag. Whatever the season, don't forget to air the room every day.
The best bedding for baby
As far as sleeping is concerned, the best position is of course on the back, from birth until the age of one. Choose a bed with bars, ideal for air circulation and allowing baby to see through, so he doesn't feel locked in or isolated.
Also, make sure not to pile up toys and stuffed animals in your baby's bed, only the cuddly toy is allowed to sleep with him!
Tipi beds are not recommended before the age of 18 months. After this age, they can however be a good solution for children to acquire a certain autonomy. Indeed, the bed placed on the ground allows them to easily go to bed and get up alone. In addition, Tipi beds are customizable and can be decorated to create a playful sleeping area.
If you want to decorate the room with a mobile, don't place it directly over your child's head, but rather over their feet.
For the mattress, pediatricians recommend a semi-firm density for a good support, make sure that it is perfectly adapted to the dimensions of the bed so that there is no space between the mattress and the structure of the bed. Favour mattresses made of natural materials, guaranteed without chemical treatment offering a healthier sleep and without diffusion of products harmful to baby's health.
Wait until your child is over 18 months old to use a comforter and a pillow. For toddlers, choose a fitted sheet made of natural material and a sleeping bag that keeps baby's body warm while leaving him free to move around, even if he moves around a lot during his sleep, he won't risk uncovering himself or being woken up by the cold sensation.
To help your baby fall asleep, it is important to get him/her used to sleeping in the dark. If he/she is afraid of the dark (often around the age of 8-9 months), opt for a small nightlight but never leave the light on.
By following these tips you will create a cozy little cocoon for your child and an atmosphere conducive to restful sleep.