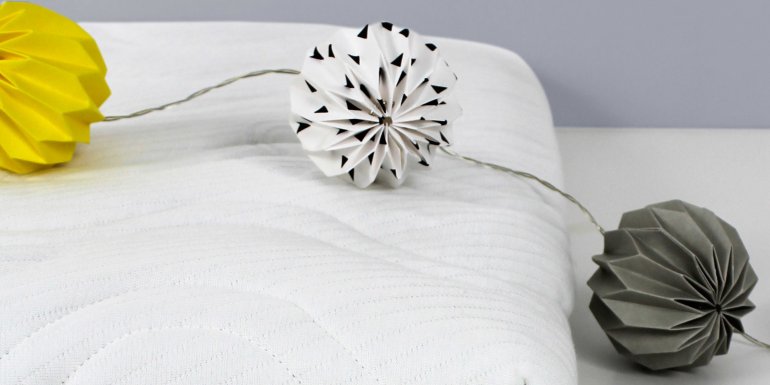 Anti-mite and anti-bacterial mattresses
We live in a world where pollution is unfortunately present everywhere. In the city as well as in the country, outside as well as inside the house. It is therefore important to surround ourselves with healthy fabrics and materials that take care of us on a daily basis. When choosing a new mattress for babies, children or adults, many people are reassured by the anti-dust mite and anti-bacterial mention, but what about these mattresses? Are they naturally anti-dust mite or do they undergo a chemical treatment that could be harmful?
What are mattress mites?
These tiny insects of the arachnid family are not visible to the naked eye. However, they are present in our homes and live in fabrics, such as bedding, mattresses and pillows, curtains, carpets ... They feed on human skin flakes, which are often found in our beds. Many people are allergic to dust mites, so it is important to get rid of them by proper cleaning or by choosing materials that repel their presence. We spend many hours on a mattress and if it contains dust mites, the allergy can easily worsen and alter the quality of sleep. Dust mites prefer humid environments because they reproduce more easily. If you have dehumidifiers at home, use them as they can help prevent colonization.
How are anti-dust mite mattresses made?
Mattresses that receive anti-dust mite and anti-bacterial treatment are often treated with synthetic products that are harmful to humans. To make mattresses anti-dust mite and anti-bacterial some manufacturers use toxic insecticides, some mattresses also contain phthalates and chemical treatments flame retardants. In total, we can count up to a hundred different chemical products on a mattress!
It is important to know that new mattresses are the most concentrated in chemical products. Moreover, these treatments are not effective throughout the life of the mattress and are sometimes more allergenic than the mites themselves!
Why choose a mattress without chemical treatments?
It is therefore advisable to choose a mattress, a comforter or a pillow without chemical treatment and naturally anti-mite and anti-bacterial and not a mattress treated with anti-mite and anti-bacterial. Some natural materials have natural anti-bacterial and anti-dust mite properties, such as natural latex (from rubber tree fiber), coconut fiber, linen, bamboo fiber and Tencel® Lyocell (from eucalyptus fiber). For allergy sufferers, babies, children and people who wish to enjoy a healthy and natural sleep, it is important to read the product descriptions carefully in order to choose naturally anti-dust mite and naturally anti-bacterial sleep products
At Kadolis, all our collections are made from noble and healthy materials. Nature gives us the best, so we choose materials that naturally repel dust mites without applying any chemical treatment to preserve a healthy environment in your bedroom and in your children's bedroom.
The Cocolatex mattress is guaranteed without any chemical treatment and is OEKO-TEX® certified

, a label guaranteeing the ecological qualities of textiles.




Made of natural materials offering excellent air circulation and limiting the proliferation of bacteria and dust mites, the Cocolatex mattress has natural anti-allergic qualities. It does not contain any anti-mite, antibacterial or antifungal treatments.
Some tips to limit allergens in your bedroom
If you have chosen a mattress that is naturally anti-allergic and contains no chemical treatment, here are a few rules to ensure impeccable hygiene in your bedroom and enjoy healthier air.
- Air the room every day for at least 15 minutes
- Choose a mattress with removable cover to be able to wash the cover regularly.
- Wash bed linens regularly at 40°, washing being the best weapon against dust mites.
Don't forget that mattress protectors and pillow covers are very good anti-allergy allies because they act as a barrier between your body and the mattress. Did you also know that during sleep, the body can release up to 1 liter of perspiration? The moisture released by the body combined with the warm environment also contributes to an excellent proliferation of dust mites and bacteria. Protecting your mattress with a breathable cover is essential to keep it looking like new and to limit the risk of allergies.