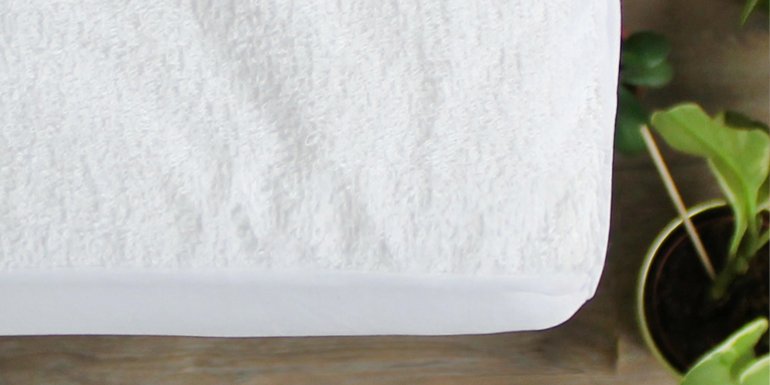 The advantage of a PVC-free sheet
Protecting your mattress is essential to keep it in perfect condition and to keep its cover as clean as the first day. We often think of protecting the mattress of babies and children during potty training, but we sometimes forget to use a mattress cover when the children are older or even on adult mattresses. However, it is imperative to protect all mattresses to avoid sweat stains that can stain the mattress and especially to ensure a better hygiene to your bed.
What type of mattress protector should I choose to protect my mattress?
For the hygiene of your mattress to be at its best, the mattress cover must be breathable, i.e. it must ensure a good circulation of air between the fibers for a good regulation of the temperature, so it is for this reason that you must banish PVC covers!
PVC is of course waterproof and preserves the quality of your mattress, but it also prevents air circulation, which accentuates perspiration and can cause nighttime awakenings. Moreover, the sensation of sleeping on a PVC layer is highly unpleasant and noisy.
The solution is the breathable Organic Cotton and polyurethane underpad, which is both waterproof to block liquids and air permeable to ensure good temperature regulation and limit perspiration during the night . Also available are TENCEL™ Lyocell underpads, a natural material that facilitates temperature regulation
The breathable underpad provides perfect protection and ensures peaceful nights by offering a pleasant touch and quiet nights. Opt for an OEKO-TEX® certified underpad that is guaranteed to be free of any chemical treatment. Wash it regularly in the washing machine to ensure that your bed is perfectly hygienic.
Breathable undersheets are available in different sizes to protect the mattresses of toddlers from the cradle to the cot. For juniors, opt for a sheet for children's bed, to be covered by a fitted sheet in Organic Cotton to keep the benefits of breathable materials. For the older ones, the adult breathable undersheets are available in different sizes to fit all mattress sizes.