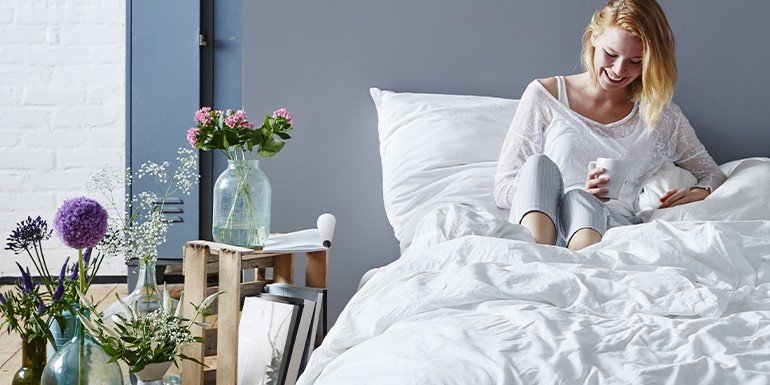 An organic bed to sleep better
The organic trend is everywhere and it's a good thing because organic is better for our health. Whether it's for our food, our skin care products, our cleaning products or for the design of our home, choosing organic products allows us to preserve a more natural and healthier environment, both for the environment and for our health.
You are a fan of organic food, you check the composition of all your beauty and cleaning products and make some of them yourself? This is an excellent initiative but have you already taken stock of the most important place in your home, the bedroom and the place where you spend 1/3 of your life, its environment should be as healthy as possible. Sleeping in an organic bed must become your priority!
What is an organic bed?
If you have a bed frame, it must be made of solid wood, natural or oiled with an ecological product but without any harmful substance.
The bed base should be designed with solid wood slats or with a wooden frame and a breathable fabric to facilitate air circulation between the bed base and the mattress.
A mattress made of natural materials
The mattress must absolutely be made of natural materials and guaranteed without any chemical treatment. Exit the anti-dust mite and anti-bacterial treatments, opt for a mattress with a removable cover and wash the cover regularly, this is the best way to get rid of bacteria.
Choose a natural mattress made of natural latex or coconut fiber known for its breathable and anti-allergic qualities.
An ecological comforter
Comforters and pillows should be chosen from an ecological range. Choose comforters and pillows whose filling is made from recycled materials or opt for real duck down. If possible choose a comforter and pillow whose cover contains TENCEL™, a natural material, derived from eucalyptus pulp, which helps regulate temperature and prevents excessive sweating during sleep.
Organic Cotton Bedding
The bed linen must imperatively be in natural material, no more synthetic in which we sweat. We opt for sheets in Organic Cotton and a bed linen in Organic Cotton. To add a unique touch of style to your bedroom, opt for a pretty comforter cover in Organic Cotton Percale.