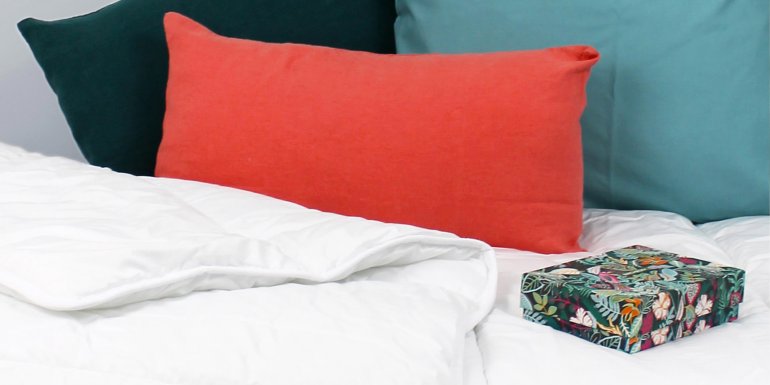 What is Tencel Lyocell?
Natural materials are more and more appreciated, particularly in the composition of clothing and household linen and even more for textiles intended for young children, notably in the composition of mattresses or certain undersheets. Indeed, they are softer for the skin and allow to limit the risks of allergy. Among linen, cotton, wool and hemp, the Lyocell of TENCEL™ has made a place of choice, let's discover together this material with many advantages.
TENCEL™ Lyocell, an ecological fiber
TENCEL™ Lyocell is made from eucalyptus pulp dissolved in a non-toxic solvent. Eucalyptus is a tree that requires very little water to grow and no pesticides, so it is particularly environmentally friendly. The forests are certified sustainable and have a low environmental impact.
Lyocell has biodegradable fibers that are made from 100% cellulose in an environmentally friendly way, and has a yield 10 times greater than cotton per cultivated hectare.
TENCEL™ is highly valued because it is a breathable, durable fabric with a silky feel that sometimes earns it the nickname "plant silk."
TENCEL™ Lyocell, a natural material with many virtues
Soft and light, it is particularly suitable for sensitive skin. With a touch close to silk, TENCEL™ Lyocell is very pleasant to wear, especially for children with sensitive skin or for people with allergies.
It is very durable, and remains in perfect condition even after many washes, without wrinkling or shrinking.
Over the course of many washes, the colors are preserved and the fibers remain silky smooth. It is as easy to maintain as a synthetic fiber.
It allows to keep a perfect hygiene.
TENCEL™ Lyocell allows for excellent moisture management and therefore perspiration. Moisture is quickly absorbed by the fabric and then rejected outside, limiting the proliferation of bacteria on the skin.
It is naturally air conditioning.
TENCEL™ Lyocell naturally regulates temperature, providing a cool feeling in summer and warmth in winter.
This innovative fiber is used in the fashion world but also for bedding. Fitted sheets containing TENCEL™ allow for better temperature regulation and limit perspiration during sleep.