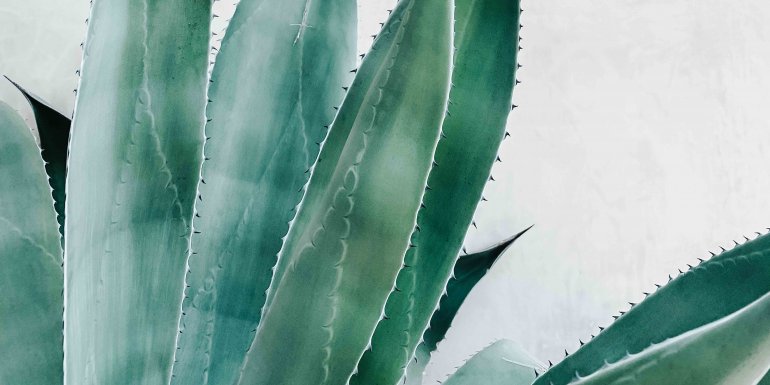 Discovering Aloe vera
Aloe Vera is a plant that grows in arid or even desert environments. It has been used for thousands of years since the first traces of its use date back to Ancient Greece. It was nicknamed by the Mayan people "the source of youth".
The virtues of Aloe Vera
After many years of research it was discovered that Aloe Vera contains many nutrients, about 12 vitamins (including vitamins A, B, C and E), about 20 minerals and 18 amino acids, which represents an excellent nutritional cocktail.
In a more practical way, Aloe Vera has many virtues, it is antibacterial, antifungal, antibiotic, antioxidant, anti-inflammatory and soothing.
Aloe Vera improves digestive comfort, helps control blood sugar levels, strengthens natural defenses and stimulates the immune system, helps maintain healthy skin and promotes wound healing.
The various uses of Aloe Vera
This plant can be used to treat many ailments, it can be used in two ways:
- internally, by drinking the translucent aloe vera gel (mucilage) extracted from the inside of the leaves
- externally, as a cream or gel to be applied to the skin.
Its application on the skin allows to treat many conditions such as eczema, psoriasis, burns, acne and even some wounds because it promotes healing.
This plant is particularly useful to look after the sensitive skin of the babies, it makes it possible to calm irritations, the erythema nappy, itchings due to the allergies of contact, and even the cradle caps.
It is also highly sought after for making homemade, zero waste cosmetics.
Aloe vera is now present in some mattress covers. It allows to limit skin irritations, especially for children. Amattress with an Aloe Vera cover is particularly indicated for people with allergies or skin problems.
Particularly soft, it would also promote sleep.
Aloe Vera as a houseplant
This cactus-like plant is also very effective in the home, it helps to purify the atmosphere and clean the room of even the most dangerous chemicals such as formaldehyde contained in certain materials and detergents. So don't hesitate to decorate your home with a nice Aloe vera plant in a pot! It grows quickly and forms new cuttings quickly.
It is possible to extract gel from a plant of about 4 or 5 years old.