An essential element of the bedding, just like the comforter or the bed linen, the pillow must be chosen with care. It must support the head and adapt to each sleeping position. If it is not well adapted, it can lead to pain and blockages in the neck and back.
Choose a pillow without chemical treatment
We spend between 6 and 8 hours on our pillow, so it's best to choose a healthy pillow, certified OEKO-TEX®, without chemical treatment. Beware of "anti-dust mite" pillows, most of the time they are chemically treated pillows. Choosing an anti-mite pillow means choosing to spend all your nights on insecticides!
At Kadolis we refuse all chemical treatments and make our products from natural or recycled materials.
The Maui Organic Cotton pillow
Incredibly soft, it offers a unique comfort. It is composed of a filling in recycled fibers made from plastic bottles and a 100% Organic Cotton cover (from organic farming). Guaranteed without any chemical treatment, the Maui Organic Cotton pillow offers a perfectly healthy sleep to adults and children alike.
For impeccable hygiene, the Maui pillow can be machine washed once or twice a year, its Organic Cotton cover is removable and can be machine washed regularly.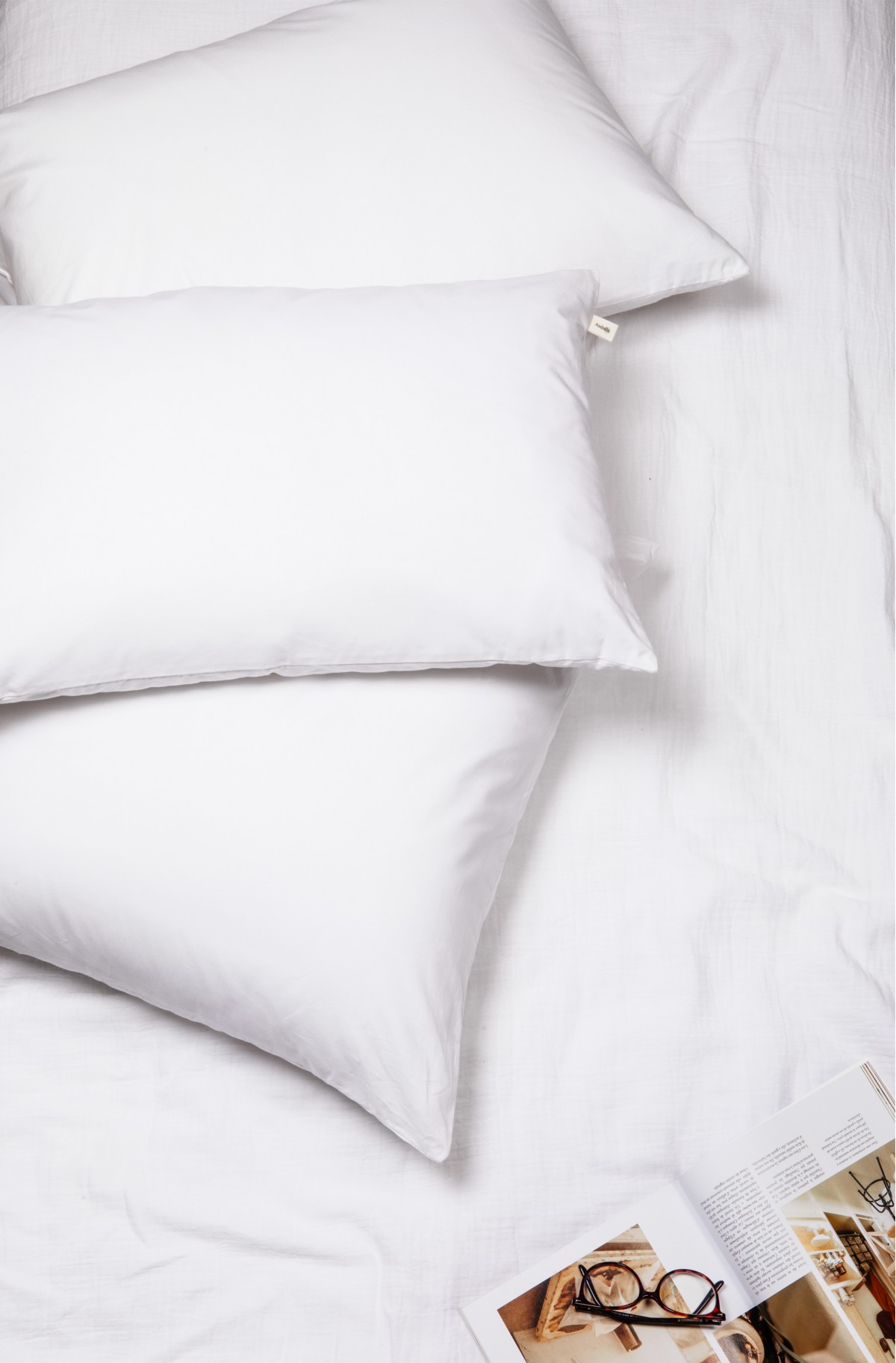 The Hawi TENCEL™ and Organic Cotton pillow
The HAWI TENCEL™ and Organic Cotton pillow is particularly comfortable and breathable as it allows excellent air circulation and moisture wicking thanks to its cover containing TENCEL™ and Organic Cotton. It thus ensures healthy nights and an ideal sleeping temperature. The Hawi pillow limits excessive perspiration during sleep and thus prevents the proliferation of dust mites and bacteria in a natural way without any added treatment.
Its filling is made from recycled plastic bottles.
The Hawi pillow can be machine washed once or twice a year, its Organic Cotton cover is removable and can be machine washed regularly.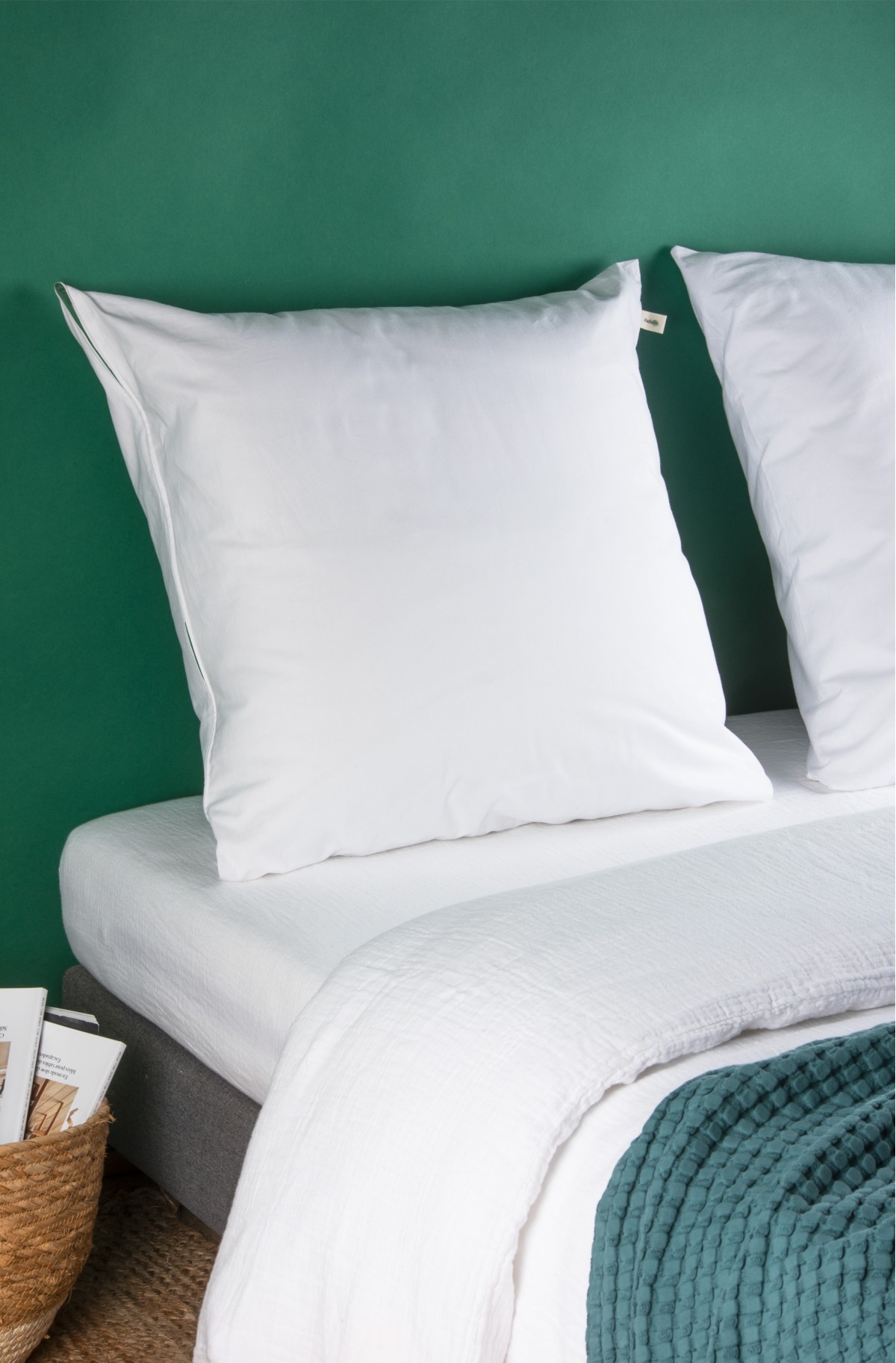 The Lanai down and feather pillow
The Lanai pillow is an authentic feather pillow filled with small feathers and duck down and covered with an Organic Cotton cover. An ultra soft pillow that offers a unique and 100% natural comfort.
This pillow returns to its initial shape every morning, it ensures a good thermal insulation and limits excessive perspiration. A pillow that can be used all year round!
This feather pillow can be machine washed occasionally at 30°. Its removable cover can be washed regularly.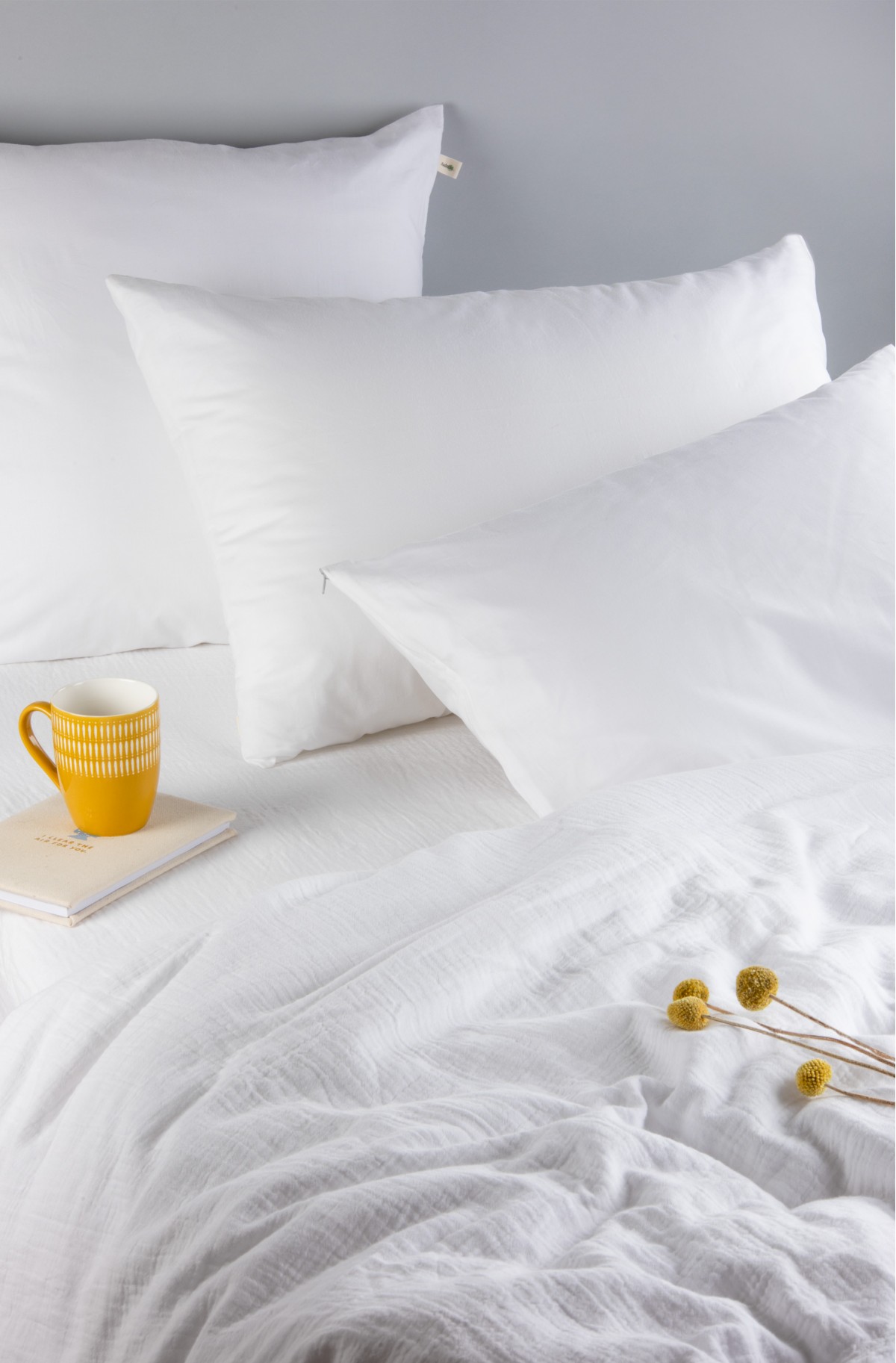 A pillow for every sleeper
The choice of a pillow is made according to each morphology, but also according to your preferred sleeping position.
The right pillow is the one that adapts to your sleeping position and offers a perfect alignment of the spine and cervicals.
The baby pillow
Babies should sleep without a pillow until they are 2 years old, which is the time they sleep in a crib. The question of choosing a baby pillow arises when they move to a big bed. The first pillow should be small and not too thick so as not to create tension in the child's neck, it should be light because children move around a lot and should be able to manipulate their pillow easily depending on their sleeping position.
The baby pillow must be easily removable to guarantee a perfect hygiene.
The baby pillow 40x60 cm (thickness 12 cm) is ideal to respect the morphology of the 2 - 5 years.
The child pillow
As the child grows, he/she can keep a small, relatively flat pillow or choose a larger pillow in 50x70 cm or 60x60 cm format. The choice of a child's pillow depends on age, size and sleeping position.
Children tend to sweat during their sleep, especially around the head, so it is important to choose a pillow made of natural materials that are more breathable than synthetic materials. A golden rule to respect: always choose a pillow without chemical treatment to maintain a healthy environment in the bedroom.
The adult pillow
Adults will choose their pillow according to their sleeping position, but also according to their tastes. Some like bulky pillows, others prefer flat pillows, some like firm pillows, others like soft pillows that they can shape with each change of position.
At Kadolis all our pillows are made from natural materials and are available in 3 sizes: 40x60 cm, 50x70 cm and 60x60 cm.
Which pillow for which sleeping position?
- If you sleep on your stomach, choose a thin or very soft pillow to avoid being too arched at the neck.
- If you sleep on your side, the thickness of the pillow should fill the hollow between your head and shoulder.
- If you sleep on your back, choose a soft pillow that is neither too firm to create tension in the neck, nor too soft to keep you from sinking completely.
All Kadolis pillows offer soft and supple comfort while ensuring a healthy environment for the sleeper thanks to natural, recycled and OEKO-TEX® certified materials. No treatment is applied to our products. All our pillows are removable and machine washable.