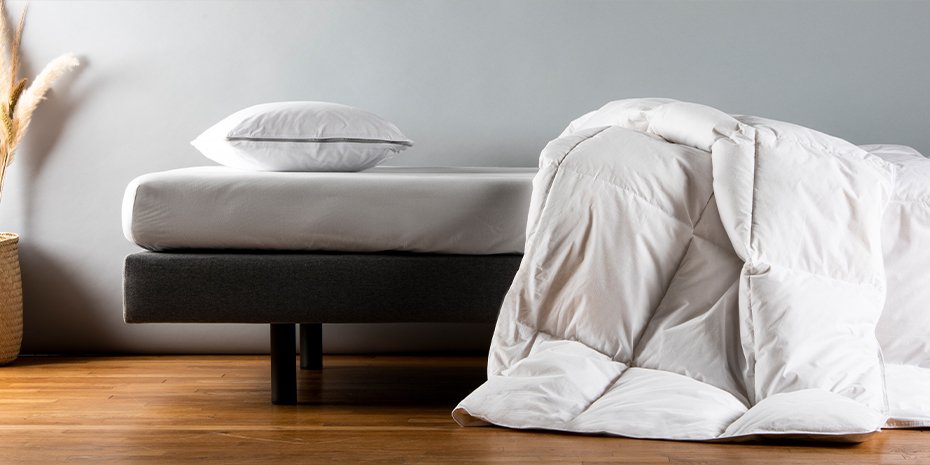 How to choose the right duvet?
A good comforter is essential for a good sleeping comfort but what are the criteria to take into account to make the right choice?
The ideal comforter is the one that will adapt to the body temperature in order to offer a comfortable sleep, it must be warm to bring relaxation and comfort but not too much to avoid excessive sweating. Sweating during the night is quite normal, an adult loses about ½ liter of water per night, but excessive sweating can affect the quality of sleep.
Comforter weight:
To find the ideal temperature it is necessary to look at the weight of the comforter, it corresponds to the weight of the fibers that make up the comforter per m2.
A weight between 150g and 250g corresponds to light comforters or summer comforters, you can also use this type of comforter in well heated apartments (above 22°)
A weight between 250g and 350g corresponds to warm comforters perfect for the winter season or rooms heated to 18°.
Beyond 350g it is the ideal weight for people who are cold or for people who live in an old house with little heating.
Comforter filling:
It is important because not all comforters are the same and it is often the filling that makes all the difference. Among all the comforters available on the market you can choose between a natural filling or a synthetic filling.
For a natural filling, choose a duck or goose feather comforter, they have a very good warmth/weight ratio but these comforters have some disadvantages: their price is often high, they are not washable and are more prone to the proliferation of bacteria and mites.
The synthetic filling consists of polyester fibers, the best comforters have a filling of polyester fiber Hollofil ECO of Dacron benefiting from the Ecolabel. Their cost is lower and they are machine washable.
The properties of the comforter:
To benefit from a soothed sleep it is important to determine the properties to privilege according to your needs. In all cases, choose comforters made of natural fibers with anti-bacterial and anti-mite properties, and banish comforters with chemical anti-mite and anti-bacterial treatments. If you tend to sweat opt for a comforter that allows you to regulate the temperature like comforters made of TENCEL™, a naturally air-conditioning material that offers a feeling of coolness in summer and warmth in winter. If you disagree with your spouse on the warmth of the bedding, choose a bi-density comforter, warmer on one side than the other.
In any case, always choose a comforter guaranteed without added chemical treatment and certified OEKO-TEX®.
You may be interested in this article :