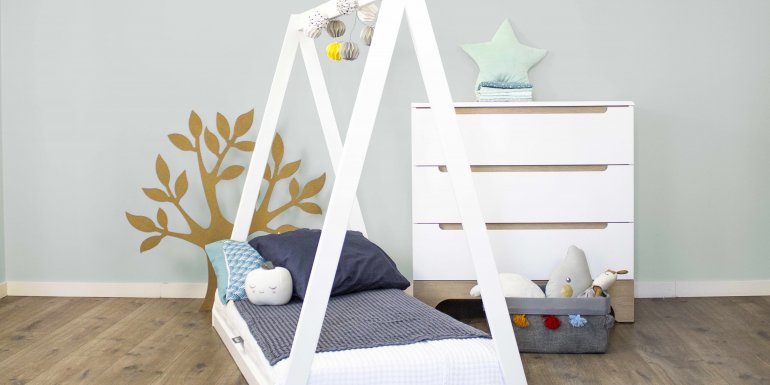 A teepee bed for my child?
For the good development of a child it is essential that he can let his imagination run free, through games with his friends but also when he is alone in his room. The teepee bed is excellent for allowing the expression of this overflowing imagination, it offers many possibilities of decoration to invent extraordinary adventures!
The teepee bed helps to develop children's autonomy
The teepee bed is recommended when baby is walking and starting to be autonomous, this small reassuring bed will precisely allow to develop his autonomy while remaining in a playful environment. The size 70x140cm (evolutionary bed) is ideal, before baby will be better in a bed with bars where it will be perfectly secure.
The teepee bed is very appreciated by children and parents for its pure Scandinavian style. A raw wooden frame that can be decorated in a variety of ways to suit the imagination of children. The teepee can be transformed in the blink of an eye into an Indian tent, a camping tent, a princess' house, a castle, etc. You just have to decorate it with a canvas, a sheet, garlands, tulle, etc. Everything is possible because children's imagination has no limits! You just have to make sure that the canvas is well hung so that it does not fall on the child during the night...
A wooden teepee bed with a box spring
When choosing a teepee, the choice of material is important. It is preferable to choose a teepee bed made of solid wood or ecological wood to avoid VOC emissions in the child's room. The paint that covers it should be water-based and without toxic solvents, specially designed for use in children's rooms. When choosing a teepee bed, it is important to choose a strong and stable structure to allow children to hang different fabrics without the risk of the teepee collapsing
Some tipis are designed to lay the mattress on the ground. When the mattress is placed directly on the floor, the heat from the child's body causes micro-droplets to form which cannot be removed. The floor will be wet under the mattress, which will lead to the proliferation of bacteria
Prefer teepees with an integrated box spring, even if it is positioned very close to the ground, the box spring allows air circulation and good ventilation. Always choose a natural fiber mattress for better air circulation.
The major advantage of the teepee is that it is not only a bed but also a playful space in which the child feels comfortable, which can sometimes reduce bedtime anxiety and facilitate sleep. However, be careful to set limits so that the child does not play too late...