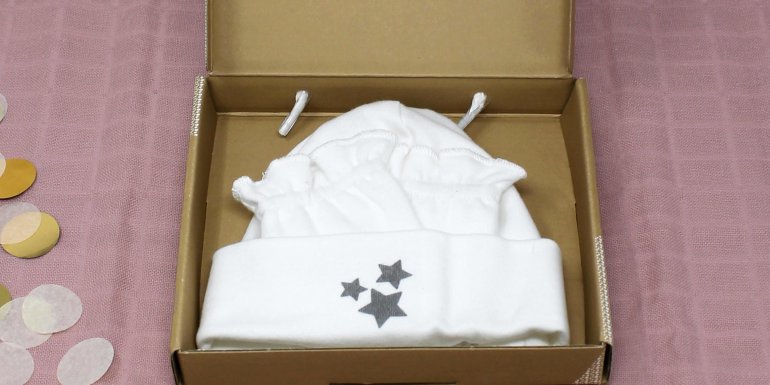 Gift ideas for baby
Offering a gift to a newborn, or rather to his parents, is often a source of questioning... How to find an original and useful birth gift ?
A cuddly toy is the first idea that comes to mind, even if he already has several, we always fall in love with adorable soft teddy bears. But when you choose a cuddly toy for your baby, make sure that it complies with current CE standards, to guarantee your child's safety. Don't forget to check the seller's advice on the age of the soft toy, as not all soft toys are suitable for infants. Choose a small teddy so that baby can hold it and it is easy to carry in the changing bag. Avoid teddies that are 1 metre high! Finally, check that it is machine washable so that you can wash it regularly.
The birthbonnet and mittensset . It is the ideal gift for the first days of baby. The bonnet helps newborns to regulate their temperature and the mittens avoid the scratches so frequent during the first weeks. Choose a birth set made of Organic Cotton for a better respect of the fragile skin of babies.
Soft pyjamas, baby fashion offers many models of pyjamas of all kinds. Marked colors for the boys and for the girls, neutral colors very tendency, the choice is vast. Preferably choose natural materials such as Organic Cotton, with its breathable properties, which help to regulate temperature.
A pretty sleeping bag that will envelop baby and accompany him in his sleep throughout the night. Here again, choose natural materials. Organic Cotton sleeping bags offer good air circulation and allow good evacuation of perspiration, baby sweats less, he sleeps better.
Swaddling bags! Used in many situations, nappies remain essential in baby's trousseau. Perfect for protecting baby from the sun in summer, they can also be used as a bib, to protect the fitted sheet during a nap or as a cuddly toy.
In any case, to protect baby's environment, choose objects and clothes made from natural materials and bearing the Oekotex label.